It's summer time.  Your kids are home.  You need something to do.  Not to mention, you will be having a full-blown, house party for 4th of July and do not want to be the entertainment for your children on Saturday morning.  So, why not spend the weekend at the Carnegie Science Center!  Pittsburgh Brown Mamas has joined with the Carnegie Science Center to give a mama two tickets to the Science Center. Just enter our Rafflecopter giveaway below.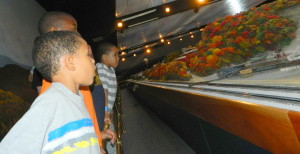 The North Shore attraction just began it's summer BLUE exhibit.  Use enormous blue foam blocks to build mini-cities! Be an engineer as you tinker with small and medium-size blue blocks.  The great thing about it is it's fun for all ages!  My boys and I had a girls v. boys fort building contest.  With some family members, we used the big, blue blocks to build our forts to the ceiling before they all came crashing down. 
And as always, my boys loved blowing the whistle at the huge model train and city village.  Oh, and don't forget about SportsWorks!  Let your kiddies reach new heights as they explore the physics of sports and even ride in a human body simulator. So, what are you waiting for enter to win now!  Have fun at the Carnegie Science Center!
Click Here for a listing of new Carnegie Science Center exhibits this summer.