It's almost April mamas and so at the forefront of many of our mind's is the daunting question: What am I going to do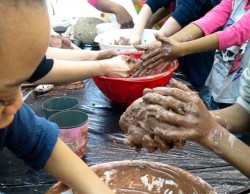 with my kiddos for the summer?  Assemble, located in the Garfield section of Pittsburgh right on Penn Avenue, has created some pretty cool options for us urban mamas who are looking for fun, engaging and educational options for our brown babies this summer.  From eco-explorers to the finding the hows and whys of superheros, Assemble has something for every kid who wants to do something different during the summer months.
Camps are 100% FREE to Garfield residents and need-based scholarships are available.  The week-long sessions are normally $200.  Assemble has camps designed for children ages 6 to 13 exploring everthing from technology-driven storytelling to astronomy.  The Penn Avenue center is offering week-long camps from the week of June 22 to August 8th.  To contact Assemble visit their website by clicking here.
Here's the full schedule:
June 22-June 26, Ages 11-13: Urban Eco Explorers (sign up here)
June 29-July 3, Ages 6-7: Urban Eco Explorers (sign up here)
July 6-July 10, Ages 8-10: Urban Eco Explorers (sign up here)
July 13-17, Ages 6-7: Superheroes Assemble! (sign up here)
July 20-24, Ages 8-10: Superheroes Assemble! (sign up here)
July 27-July 31, Ages 6-7: Story Laboratory (sign up here)
August 3-August 7, Ages 8-10: Story Laboratory (sign up here)
August 10-August 14, Ages 11-13: So, You're a Scientist? (sign up here)