So, I didn't know it until I posted a pic of hubby and I on Facebook, but apparently everybody loves the Bonefish Grill.  When we checked in on FB, my post was met with praises of the restaurant and the persuasive suggestion to make sure we try the Bang, Bang Shrimp.  While I'm not surprised I didn't know about this great restaurant, (because we've been hiding under a rock since having our back-to-back boys). I'm so happy that my husband and I broke our date night dry-spell at the brand new Bonefish Grill in McCandless.  As of August all 3 of our children are over the age of 5! Whoot, whoot we made it!  So, we've vowed to go on more date nights.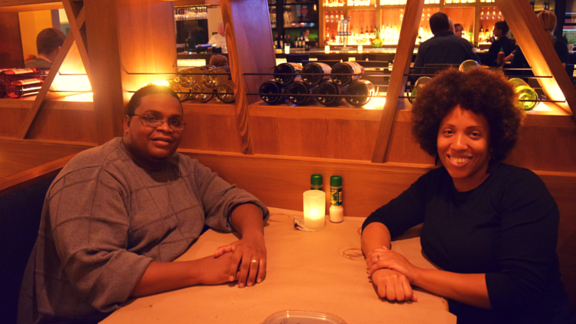 Walking into the intimate, candlelit restaurant we knew we were in for a treat and I instantly knew this was going to be a great review to write.  Even before we met our excellent waitress, Kyla, the concierge was kind and warm.  She seated us in our comfy booth and along came cool Kyla who insisted I try the Fall Apple Martini!  Great decision.  It's literally an adult apple juice. The apples are soaked in vodka for three days which makes for a really smooth taste and it's topped with cinnamon. Due suggestions by the populace on Facebook, next we tried the bang, bang shrimp.  And it was bomb!  It's a breaded shrimp with a sweet, but tangy sauce topped with green onions.  It served on a bed of lettuce, which I ate because the sauce was so tasty that I couldn't stop when the shrimp were gone.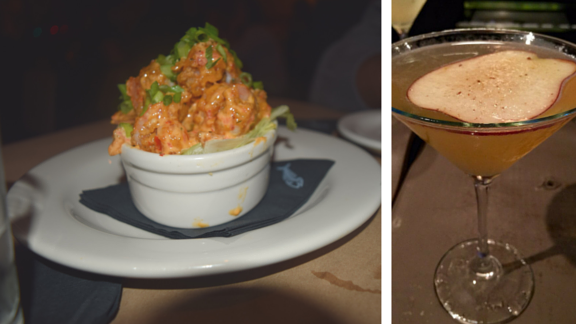 After the tasty bang, bang shrimp and my Fall Apple Martini, it was time to order dinner.  My husband ordered the Chilean Sea Bass (with a Stella, as he always does) and I followed suit.  Every time we go out to dinner and I pick my own food, he always has the better tasting food.  Seeing as how our appetizer was so delicious, I was not going to take the chance that Mack's (my hubby) food was better than mine.  I was very glad that I let hubby be 'the decider.' The bass was phenomenal.  It was char-grilled just enough to get that grill taste that reminds you of summer, but was still super succulent on the inside.  Again, bomb! Mack got mashed potatoes, and because I like everything sweet, I ordered sweet potatoes.  We both had the spaghetti squash.  I love yellow squash, but the Bonefish Grill chefs prepare it in a very unique way.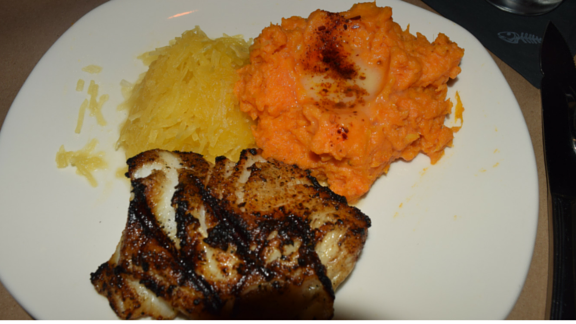 That was our entire experience at Bonefish Grill. I'm hoping to visit again, this time with my sistah friends from Pittsburgh Brown Mamas. If you're looking for an intimate setting for great conversation that has excellent customer service and spectacular food, the Bonefish Grill in McCandless is your spot.