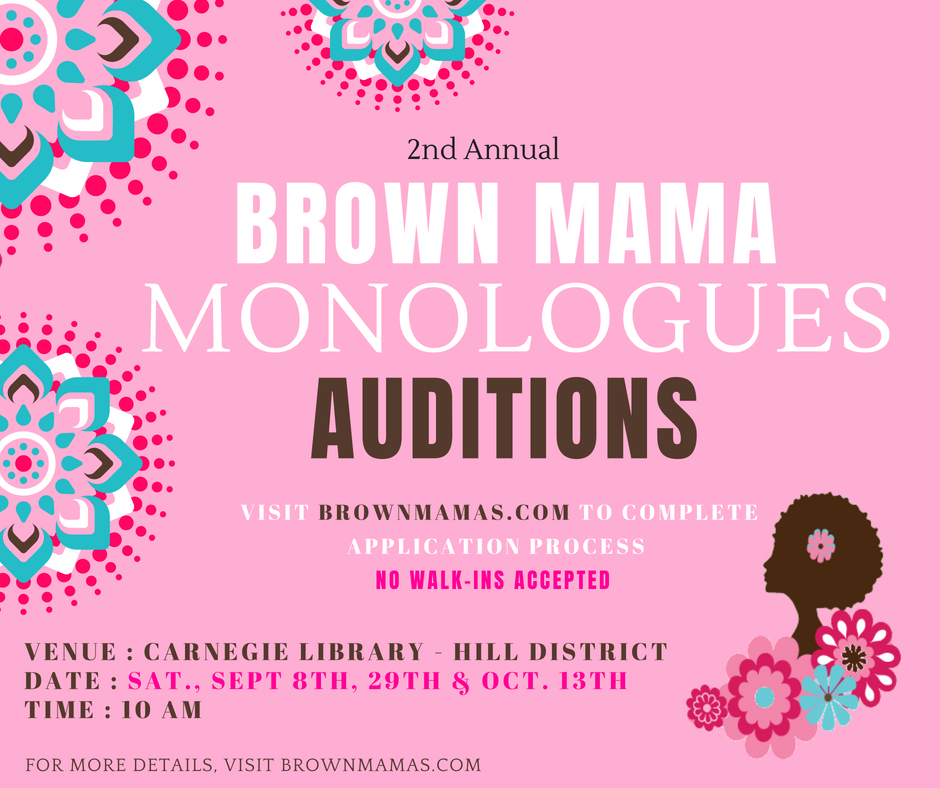 We're so glad you've decided to audition for the Second Annual Brown Mama Monologues.  This year's auditions will take place on Saturday, September 8th and Saturday, September 29th from 10 am – 2 pm at the Carnegie Library in the Hill District.  We are so excited to hear your story.  Just a few things BEFORE you apply to audition:
For the purpose of this show, a monologue will be defined as a 5-6 minute speech detailing an original story about your motherhood journey.  For our show, a monologue is not a fictional story or skit about motherhood or a lecture about motherhood.
Your monologue can be a story that chronicles an event, feeling, experience that you've had during motherhood, a relationship you've had with another mother and it's impact on your life, a story about your child or childhood.  In short, ANY ORIGINAL STORY as long as it relates in some way to motherhood from your personal perspective.
Women chosen to participate in the show will not be paid monetarily.  However, we will provide ample opportunities for participants to grow as speakers, engage with show attendees and promote their products/brands to our awesome Brown Mama Monologue audience.
Monologue participants will be required to memorize their stories.
There will be a total of 5 rehearsal/workshop dates that are REQUIRED between the months of January and May.  If you believe this is too much, consider applying for the 2020 show.
I hope this provides clarity on what a monologue is and what will be required to participate in the show.  Please fill out the form below.  You will be contacted if you are chosen to participate.  Thank you!