It's almost spring!  That means it's time to kick-off Brown Mama Meet-ups for 2016.  Pittsburgh Brown Mamas is a support group for Black moms in Pittsburgh that exist with the two-fold mission of assisting Black moms in experiencing Pittsburgh as the nation's most livable city and helping Black moms enjoy everyday life.  With that said, here are Pittsburgh Brown Mamas' meet-ups for March 2016.
Cocktails & Convo @ Culture Restaurant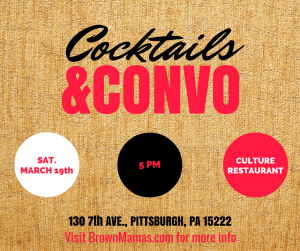 Let's kick-off our spring meet-ups with cocktails and convo at one of our fellow brown mamas' husband's restaurant.  Join us in Downtown Pittsburgh for a drink and dinner and make some mama friends.  We will meet at 5 pm and leave when were good and ready (or until the restaurant closes).  Feel free to bring a friend and share this event.  See ya there. (click here to add this event to your calendar)
Brown Mamas Family Day
Bring out the kids (and ya' man) for a day out with the family and your mama friends.  We'll meet-up at Romp n' Roll and skate the afternoon away.  Romp n' Roll has both a large skate rink and a toddler rink for beginners.  Admission cost is $5 ($2 for skates, $3 for blades).  We will meet-up at 2 pm and skate til 5 pm.  See ya there!
Click here to add this event to your calendar.
Click here to join Pittsburgh Brown Mamas private Facebook group.