The Citizens Bank Children's Theater is back for another season of family-friendly imagination on-stage.  This year the Citizens Bank Children's Theater will be EVERYWHERE. The bi-monthly showcase will not only feature shows in Pittsburgh's Downtown Cultural District, but is also on-the-road with performances in the North, South, East and West of Pittsburgh.
The season kicks-off with Dog Loves Books from November 13th – November 20th.  The show will travel from Penn Hills High School to the Byham Theater to Seneca Valley and more.  Dog Loves Books will tell the adventurous story of a pup who opens his own book store and is based on the New York Times bestselling book of the same title by Louise Yates.  Brown Mamas has your chance to win a Family 4-Pack of tickets below!  Keep reading.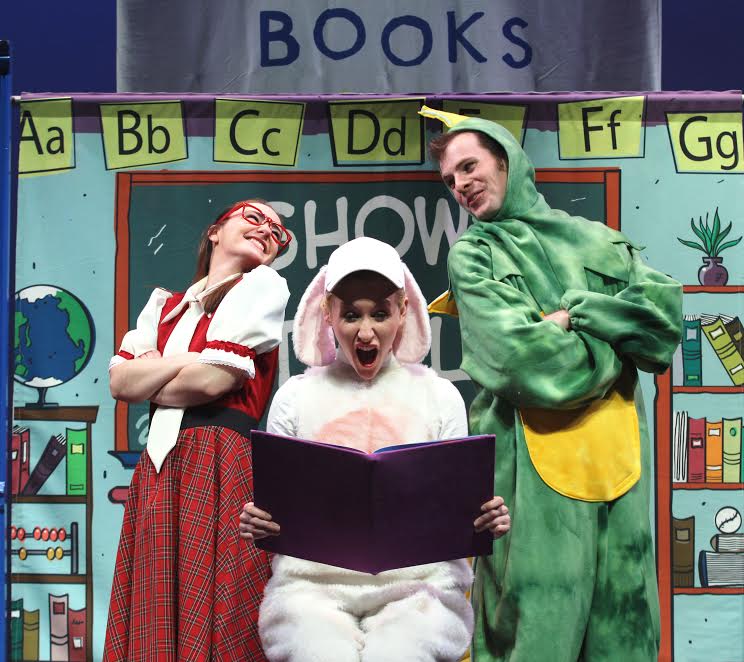 The Citizens Bank Children's Theater will run for one week each during November, January, March and May.  Show locations will include:
Seneca Valley Intermediate School
Dog Loves Books isn't the only show that will be traveling Pittsburgh this fall, winter and spring seasons.  Season tickets and flex tickets will be available for the shows below.  Season passes are $42 per person.  That boils down to $8.40 per person, per show.
Pete the Cat never loses his cool. Jimmy Biddle never strays from his routine. That is, until the groovy blue cat moves in with The Biddles. Can cat and boy ever be friends? When Jimmy draws a blank in art class, Pete proves to be the perfect pal to help Jimmy find his inspiration. Based on the popular series by Kimberly and James Dean, join Jimmy and Pete on a new musical adventure of friendship, all the way to Paris and back in a VW Bus. (Jan. 8 – Jan. 15)
We galumph when we hop instead of walk, when we take the scenic route instead of the efficient one, when we are interested in means rather than in ends. Combining stunning acrobatics, striking visual effects, physical comedy and inventive choreography, Galumpha brings to life a world of imagination, beauty, muscle and merriment.  (Feb. 14th – Feb. 19th)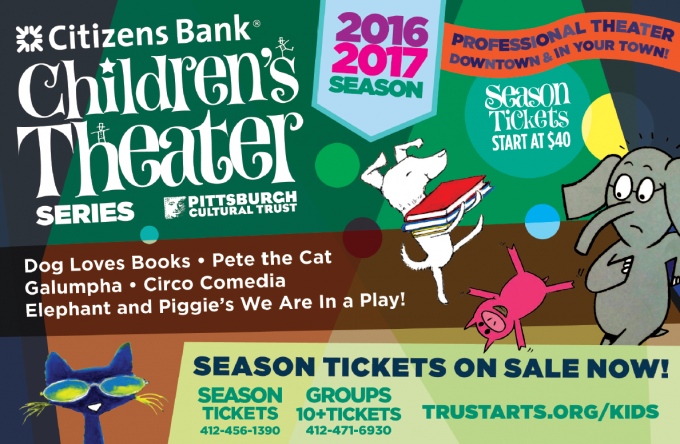 Unpredictable thrills, side-splitting comedy and daredevil stunts are the signature style of Circo Comedia starring the fantastic duo Jean Saucier & Patrick Cote from Montreal as they perform their distinctive style of humor, acrobatic tricks, daring feats, magic and eccentricity. (March 5th – March 12th)
Elephant Gerald and Piggie sing and dance their way through plenty of pachydermal peril and swiney suspense in Elephant & Piggie's WE ARE IN A PLAY! This vaudevillian romp of a musical is based on Mo Willems's beloved, award-winning, best-selling children's books. (May 18th – May 21st)
Stay connected to Pittsburgh Cultural Trust's Facebook, Twitter and Instagram accounts for more info on the show.  So, you're still reading.  You must really want to win.  Here's the giveaway.  Just a hint, the more entries you make, the more points you earn, the more likely you are to win.  Remember, you don't have to be bored this fall/winter season, season passes and flex tickets are available for the Citizen's Bank travelling Children's Theater.
May the odds be in your favor!