It hit me for the first time about six years ago that it didn't matter that I drove a mini-van, stayed-at-home with my babies, got married, went to PTA meetings, dressed appropriately and have never missed a parent-teacher conference, I'm just not what a "good mom" looks like in America.  Simply put, I am an African-American mom.
I'm not unsightly, I wear my wedding ring everyday, I garden and pick up my kids from school everyday.  But that doesn't stop teachers and administrators from stereotyping my children as "at-risk", wondering if "everything's alright at home" or asking my kids did they eat breakfast this morning when I drop them off.  You see, for decades there has been a long-held belief that Sistahs are not capable of raising children.  Although we raised white children for centuries, for some reason "other" mothers don't get the signal that we are just as likely to excel at motherhood as any other ethnicity.  It's almost as if we have to prove ourselves on the playgrounds and schoolyards of life before anyone can accept that we care, love, nurture and give everything we have to our children.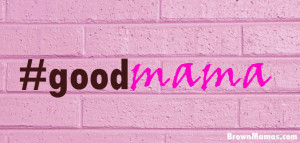 Well good thing for BrownMamas.com.  From now, until as long as it takes, we will be sharing the stories of mamas right here in the Pittsburgh region who are not only excelling at raising children, but who are triumphing over crazy odds, crazy kids and other crazy people's attitudes.  We will tell you the stories of our mamas, share their secrets for successful mothering-in-color and prove to the the entire Pittsburgh region that "other" moms aren't the only ones who can play the family game!
Some of our mamas are track mamas, we've got reading mamas, we've got crafty mamas, we've got 9-to-5 and still alive mamas. Our mamas are entrepreneurs, our mamas are single, our mamas are married, but most importantly our mamas are great at being mamas.
So, join me in this movement.  Use the #goodmama whenever you take your kids to the zoo, get them in bed on-time, read them a book, or pick them up from school.  

Print out the "I am What a #GoodMama Looks Like" sign here.

 Post your pics to Twitter, Facebook or Instagram with the #goodmama.  And remember to tag @PghBrownMamas. Happy Mothering!
Here are some of our #GoodMama stories:
#GoodMama Dianne Raises Me Right
#GoodMama Tiff Raises Two, Has the Time of Her Life
#GoodMama Farrah Survives a Miracle