Every May the EQT Children's Theater Festival is the monthly meet-up spot for Pittsburgh Brown Mamas.  Our brown babies enjoy the performances, many festival activities and food truck line-up each year.  My boys have to come look forward to attending the festival every spring.  This year's EQT Children's Theater Festival will take place from Thursday, May 18th to Sunday, May 18th in Downtown Pittsburgh's Cultural District on Penn Avenue.
This year Brown Mamas has a giveaway for 4 tickets to the performance of your choice.  The festival's theater performances and schedule are listed below.  Check out some highlights from previous years.
EQT Children's Theater Festival Performances:
Elephant & Piggie's We are in Play : Elephant Gerald and Piggie sing and dance their way through plenty of pachydermal peril and swiney suspense in Elephant & Piggie's WE ARE IN A PLAY! This vaudevillian romp of a musical is based on Mo Willems's beloved, award-winning, best-selling children's books.
Mufaro's Beautiful Daughters – An African Tale : Celebrate goodness, generosity and love with traditional chanting, rhythmic drumming, and glorious African song in this beautiful Zimbabwe-based on the1988 Caldecott Honor Award book by John Steptoe and adapted for the stage by Karen Abbot and Music and Lyrics by S-Ankh Rasa.
The Way Back Home : When a boy discovers a single-propeller airplane in his closet, he does what any young adventurer would do: he flies into outer space!  Based on the book by Oliver Jeffers, The Way Back Home explores the boundless imagination of children through puppetry, wonderful music, and creative wordless storytelling.
Pulse : Carefully designed for the youngest of theatergoers, Pulse uses soft textures and lively games to invite infants and toddlers into a safe, positive, and friendly environment that will stimulate their sense of creativity. Actors create an extraordinary space ready for exploration, connecting with simple materials to transform their surroundings into a world of play.
Simple Gifts : Experience a series of touching and poignant scenes from everyday life told through a beautiful and skillful manipulation of marionettes. Set to music, this theatrical and artistic program will provide an entertaining and sensitive vision of what it is to be human.
We Built This City : The whole family will enjoy building the cities of their dreams in this giant cardboard construction site. Thousands of cardboard boxes take over in this interactive performance where children build entire cities and towns of skyscrapers, tunnels, and sprawling estates that reflect the time and place of their immediate culture.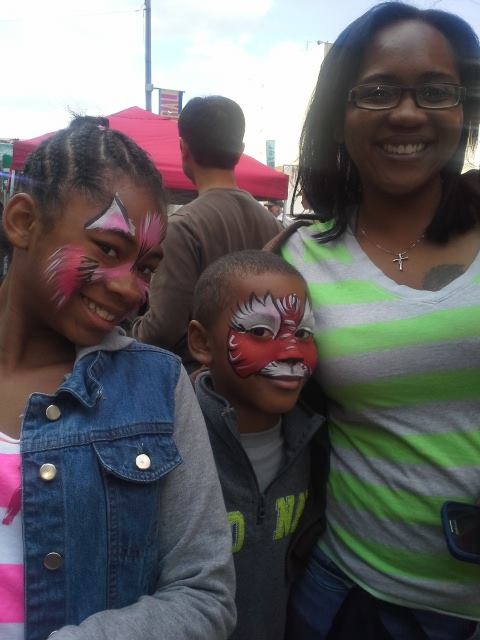 In addition to these awesome theater performances, the EQT Children's Theater Festival will host hands-on activities in each tent, face painting, outdoor performances and plenty of opportunities to run and play.  Outside of the food trucks and theater performances, the festival is 100% FREE to all Pittsburgh families.
The festival will be held from May 18th to May 21st in Downtown Pittsburgh's Cultural District on Penn Avenue.  For a chance to win 4 tickets to one of the performances listed above, enter our giveaway below.  I hope to see you there!!
Check out these Brown Mama Giveaways too:
ReadwithFonics Educational App