Once all of the ordinary kid-friendly events in Pittsburgh have run their course, check out Fun Slides Carpet Skatepark in Pittsburgh. Fun Slides Carpet Skatepark is located just minutes outside of Pittsburgh's North Side on Perry Highway.  I first visited the skatepark during a birthday party for a fellow Brown Mamas' son and my boys had a blast.  The 33,000 square foot space is filled with ramps and rails that your kids can "skate" up & down.  Now this isn't your traditional skating experience.  Kid's strap on their shoe slides and actually glide down ramps in a glow-in-the-dark arena.  (No learning curve required)
A 2-hour skate session cost $11.99 per person.  The highlight of our trip was the additional activities offered at the Pittsburgh Skatepark.  Dodgeball, mini-golf, bouncy houses and a Ninja obstacle course are all available with an activity ticket that cost $2.99.  And if you're wondering, a non-skater pass (for mamas with bad knees like mines) is just $1.49.  Mackell & Phillip's favorite part was the Ninja obstacle course.  They love to race and run naturally.  The timed course includes running through a "muddy" pit, going through a leveled tunnel and making your way across a narrow ramp while holding on to the wall.  They had a blast!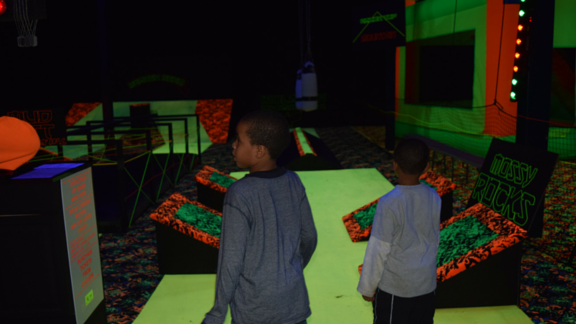 During Christmas break, visit Fun Slides Carpet Skatepark and mention this Brown Mamas post to receive $3 off your skate session.  The skatepark has recently added some new sessions too.
[one_half]
Preschool Bounce 'N Slide Session
10:30-12:00 noon every Monday starting Dec. 21, 2015
Price: $8.99 per child
Ages: Walking-5
[/one_half]
Teens Only Night
8:30 pm – 10:30 pm every Friday
Price: $11.99 per person with free skate rentals
Ages- 13-19
During the preschool session little ones will get full use of the skatepark including all slides and bounce house. In addition to the regular foot skates, butt slides, Disc Sleds and body boards will also be available.  Funslides Carpet Skatepark is also available for birthday parties and other group events.  Check out their social media sites below.  I hope your kids have as much fun as mines did!
Facebook: FunSlides Pittsburgh
Instagram: Funslides Pittsburgh North
Twitter: Funslides Pgh North
The park is open Thursday through Sunday with varying hours.  Click here to see their weekly schedule.
Looking for More Activities to do with your kids in Pittsburgh:
SkyTrails Pittsburgh
Activities for Big Kids & Tweens in Pittsburgh
Summer Festivals in Pittsburgh