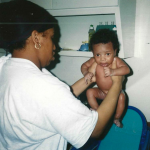 I remember the first time I needed diapers.  I was 20-years-old and had just given birth to the love of my life, my baby boy Jair.  We were rich in love, but not in dollars.  Back in the early 2000's there was a diaper bank downtown Pittsburgh on Wood Street.  Once a month I would visit the rosy cheek, chubby woman who would give me two bags full of diapers.  That didn't mean I never had to buy diapers.  (I still brought a ton)  It did mean that when I was down to my last dime, I could use the money to buy a bus pass to make it to my college classes instead of spending my last pennies on diapers.
So here are the facts on the need for diapers according to the National Diaper Bank Network:
One out of 3 American families struggles to purchase diapers
Disposable diapers cost American families up to $100 per month, per baby
Diapers cannont be purchased using funds from any government assistance program
There are currently 5.8 million U.S. babies, ages 3 or younger, living in poverty
Babies left in soiled diapers for too long are exposed to health risk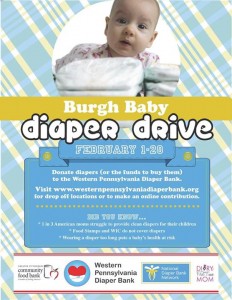 Those are the facts folks, but there is something you can do.  Pittsburgh mom blogger, Heather Hopson, has partnered with the National Diaper Bank Network to host a diaper drive right here in the city.  Heather is a brown mama too. She fully understands how important diapers are to Black families.
This is a huge concern in Pittsburgh, which has the nation's sixth highest poverty rate for African-American children. That's why DaryofaFirstTimeMom.com is teaming up with the Western Pennsylvania Diaper Bank and the Greater Pittsburgh Community Food Bank to host the Burgh Baby Diaper Drive throughout the month of February.

– Heather Hopson, Communications Director
What You Can Do To Help:
Visit the Western Pennsylvania Diaper Bank website (by clicking here) and make an online contribution or locate one of the over a dozen collection sites.  All sizes are being accepted but the highest need is for sizes 4, 5 and 6.
You can host a diaper drive on your own.  If you collect enough diapers the Wester PA Diaper Bank will pick them up.  If you are available, Pittsburgh Brown Mamas will be collecting diapers at our February Mommy & Me Meet-up.  Join our private Facebook page (by clicking here) to get more info.
Use social media to create awareness  by using the #BurghBaby hashtag.  Click here for a message you can retweet.