Turmeric is a deep orange root from India that is used as a spice in a lot of eastern dishes. It has a wonderfully earthy and exotic flavor along with many health benefits.
Natural Healing Powers & Benefits:
Turmeric helps stabilize the body's microflora, thus inhibiting yeast overgrowth. It is also an excellent anti-inflammatory agent. It helps regulate the menses, can prevent blood clots from forming, and is restorative after childbirth. It is used in the treatment of arthritis, asthma, bloating, cancer, candida, catarrh, colds, eczema, fibromyalgia, flatulence, flu, gastritis, high cholesterol, indigestion, jaundice, nausea, trauma, and uterine tumors. Topically Turmeric can be prepared as a poultice to treat athletes foot, bruises, eczema, psoriasis, swelling, and wounds.
Nutrients:
Curcumin, Essential Oils (artumerone, zingberene, borneol, turmerone), valepotriates, alkaloids, protein.
Safety:
Avoid therapeutic dosages during pregnancy (though culinary use is fine). Tumeric may cause photo sensitivity in some individuals. It may also cause contact dermatitis in rare cases.
Here's a quick recipe that will get your morning started right with Tumeric.
Tumeric, Watermelon, Pineapple Smoothie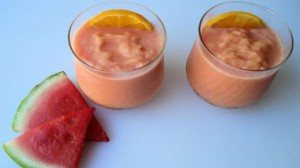 2 cups frozen watermelon flesh—cut into 2-inch chunks 1 cup frozen organic pineapple—cut into 2-inch chunks 1 orange—peeled, white pith and seeds removed ½ cup organic coconut milk—preservative free 1½ cups organic coconut water—sugar free   1 teaspoon grated fresh ginger ½ teaspoon organic turmeric powder 2-3 drops liquid stevia or 1 teaspoon raw honey—optional   Place all ingredients in a
high speed blender. Blend until smooth and frosty. Spoon into serving glasses and enjoy with a spoon or large straw.
#PeaceLoveHealth
To purchase healing medicines visit Sharae at www.etsy.com/shop/MyHerbalPharmacy