Pittsburgh Brown Mamas is a support group for Black mothers in the Pittsburgh region.  We meet monthly to support each other in our motherhood journeys, be in a socially uplifting environment and provide positive socialization opportunities for our children.
Check this page monthly to find meet-up listings.  Our communication is heavily driven by our private Facebook group and our weekly newsletter.  Our Facebook group is over 2,000 moms strong who are heavily engaged, helpful and ready to welcome new moms to the community.  Click here to join the group on Facebook.  Click here to subscribe to our newsletter.  Mamas who have questions regarding membership can email our planning collective anytime at pghbrownmamas@gmail.com.  Check below for this month's meet up!
---
The First Annual Brown Mama Monologues
---
We are so excited to be presenting this event for the very first time! The Brown Mama Monologues is the anecdote for the problem of Black mothers not having a platform to share their unique perspectives and experiences in and of motherhood.  The first annual Brown Mama Monologues will host 10 moms-of-color who will take the stage to tell their stories of joy and pain in the midst of motherhood.
The show will take place Saturday, May 12, 2018 at the Carnegie Library Theater in Homewood from 6 to 9 pm.  Visit our website at BrownMamaMonologues.com for more details.
Brown Mamas will be hosting stay-at-home mom meetups on a monthly basis.  Please check the Facebook group for details.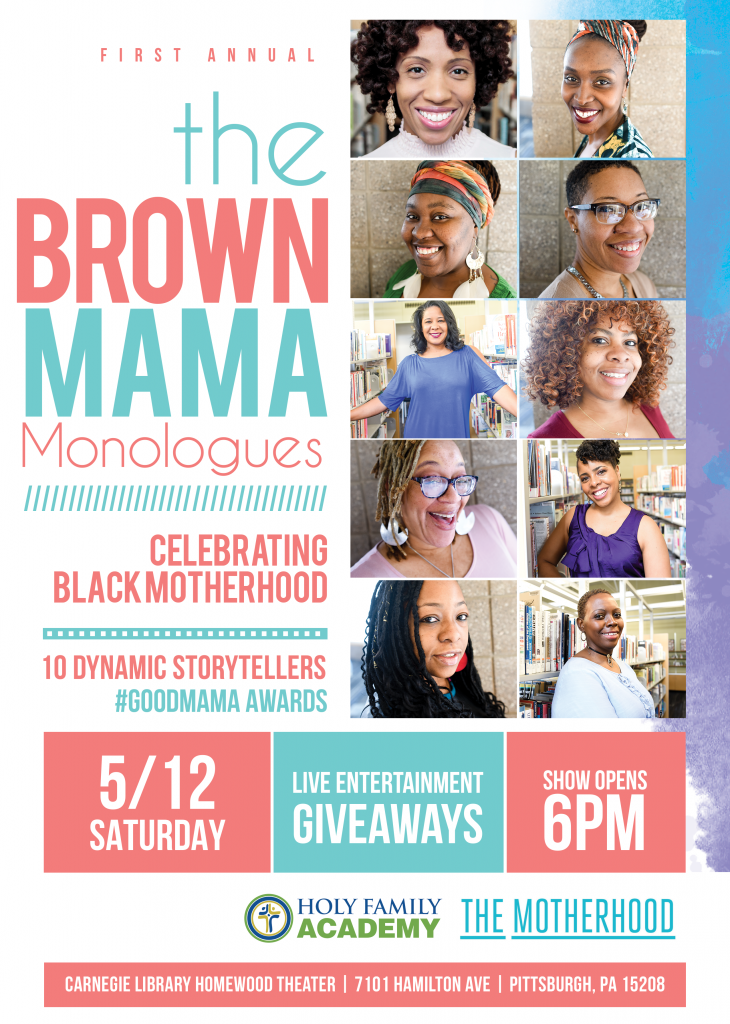 Remember to join our private Facebook group to stay connected to meet-ups every month.  See you soon!
Subscribing to our weekly newsletter or joining our Private Facebook group is the easiest way for you to stay up-to-date on meet ups.  Subscribe below! See ya soon mama.