It's well past Christmas and Santa is still thinking about me, at least it seems.  This January BrownMamas.com was chosen to be a brand ambassador for ONYXBOX.  ONYXBOX is a beautifully packaged set of 4 to 6  deluxe beauty samples that can be delivered right to your doorstep each month for just $25. (Which is about how much us brown girls spend on product anyway.) You get to pick one product yourself, and ONYXBox procures the rest of your Glam Box from universally favorite beauty finds suited for brown girls.  And this brown girl, was not disappointed.
My January ONYXBox included hair, nail and body products.  My first impression was how beautifully wrapped the box is.  From the multi-colored box to the beautiful pink paper that encases the products, it made me feel super special.  Click here to buy yours before January 31st. Now on to the best part!
My Favorite, Fab Find
I feel like ONYXBOX knew exactly who they were sending this product to when they picked it.  You would have thought I chose Beija Flor's Herbal Moisturizer & Light Styler on my own.  But, I can't take that credit.  First off, it smells divine.  Nodes of cinnamon, cream and some kind of bake good fill the air when you first open it.  But, that's not even the good part. This moisturizer made my Bantu knot curls super soft and bouncy.  I was straight amazed when I took them out.  I usually have to use some oil or a light moisturizer once I've taken out my knots.  I didn't have to do a thing.  I was ready to go. On top of that, this little sample jar is going to last me at least 4 more Bantu knot hairstyles.  Nice size sample jar Beija Flor!  Click here to get Beija Flor's product in your January ONYXBOX.
The Answer to Dishpan Nails: Sparkly Polish
There are two highlights to choosing Cina Pro's Nail Sugar.
The golden shimmer makes your hands look shiny and flawless with little effort.
The wand has a button on it that lights it up so you get a clear vision of polishing your nails.  I LOVE it.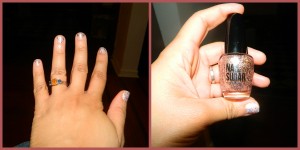 Check out my nail transformation.  Just one setback to the Cina Pro light-up wand: the light switch is hard to turn off and a girl with wet nails ain't got time for that.  Otherwise, good job!
The Whole Kit & Kaboodle + an Upcoming Giveaway
I haven't had a chance to the Anu Essentials system that I received in this month's ONYXBOX.  But, what impressed me was that Anu Essentials placed their ENTIRE hair care system in the ONYXBOX.  The glam box included:
the Nourishing Cleansing Gel Shampoo

Anu's Moisture Rich Conditioner

Leave-In Conditioner

Down Under Deep Conditioner

Moisturizing Curl Cream

Soft Set Gel
If you want a chance to try Anu Essential's awesome line of products, click here to get January's ONYXBOX or, stay tuned to BrownMamas.com. In February ONYXBOX and Anu Essentials are partnering for an awesome giveaway.  I'll keep you posted!!
Honorable Mentions
Last, but not least, in my ONYXBOX are Luxuriant's Cracked Heel Stick Soap & Woman To Woman's Leave In Conditioner.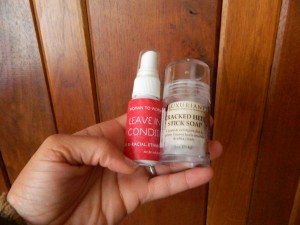 I did have a chance to try Luxuriant's Cracked Heel Stick Soap and it worked pretty well.  The only thing I didn't like was that it didn't have an exfoliating feel. (i.e. it didn't feel like it had sand or salt in it.)  But, it did get the job done.
Woman to Woman's Leave In Conditioner didn't give me a super moist feeling after I washed my hair, but it is a great refresher for your scalp.  The second time I washed my hair after I received my ONYXBOX, I sprayed it directly on my scalp before doing my moisturize and seal routine. It felt AMAZING!
So that's my ONYXBOX January experience.  Check back in February for an awesome Anu Essentials giveaway and more glam box product reviews.  Click here to buy January's ONYXBOX.