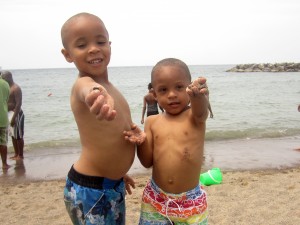 Now you know I love, love, love hookin' my mamas up!  It's always a joy when I can offer you mamas something I know is going to bright up your day.  Well, our friends at Sandcastle are determined to make sure 2015 is your #BestSummerEver.   Just thinking about summers at Sandcastle makes me nostalgic.  You remember when you were a teenage girl and you lounged on the lazy river so everyone would see your cute bikini.  Or, I remember when my bestie and I went to our first party at Sandcastle.  We had a great time!  Sandcastle is not just some water park, it is THE waterpark that everyone thinks of when they dream about summers in Pittsburgh.
In honor of helping you create those memories, Sandcastle is offering us mamas a $7 discount on Sandcastle One Day Tickets now through July 30th. 
[button url="http://shout.lt/1ffM" target="_blank" color="orange" size="large" border="true" icon=""]Buy Your Ticket[/button]
Tickets are for admission to Sandcastle Waterpark and are good on any operating day throughout the 2015 season.  This offer expires July 30, 2015.  Remember to thank our friends at Sandcastle by sharing your pictures.  Be sure to use the #BestSummerEver on Twitter and to tag Sandcastle in your Facebook pics.
Follow Sandcastle on Facebook and Twitter to learn about more summertime discounts.
[button url="https://www.facebook.com/Sandcastlewaterpark?fref=ts" target="_blank" color="blue" size="large" border="true" icon=""]Follow Sandcastle[/button]
[button url="https://twitter.com/Sandcastlepgh" target="_blank" color="skyblue" size="large" border="true" icon=""]Tweet Sandcastle[/button]
Have fun!