So, Pittsburgh's Mom Con is back!  On Saturday, November 7th you could be at the Double Tree Hotel in Monroeville, surrounded by other moms for a day of relaxing, learning with other moms and refreshing your motherhood experience.  If you are unsure what The Mom Con is all about, it is a one-day conference designed to simultaneously give moms a day-long break and inspire moms to care for themselves, learn and grow as a result of loving their children and continue to reach for their goals even after mommyhood.  Last  year, I admitted I knew nothing about The Mom Con.  I 'd just returned to Pittsburgh and had never heard of the conference before. But, over the last year, I've gotten to know the co-founders of the conference (Natalie and Nicole) and have even blogged about the conference on BrownMamas.com.  From my insider's view of the conference, I can say the 2015 keynote speeches and workshops will be dynamic! Mom Con topics include:
DIY Tips & Tricks for Your Home
A Writing & Self-Discovery Workshop
A Workshop for Mompreneurs
A Family & Finances Class
And, that's just the tip of the iceberg.  You can find the entire Mom Con schedule on their website.  Did I mention that I will be speaking at the conference? The ladies of The Mom Con are bringing me on as one of the speakers. I'm super excited to speak with attendees about leveling the playing field for moms in our society. "Why Does Your Motherhood Look Different From Mines?" will focus on  equalizing the way motherhood looks across socio-economic and racial lines. The workshop would focus on how us moms contribute to differences in how we all experience motherhood and how to level the playing field in order to create a society where mothers and the act of mothering is valued by all.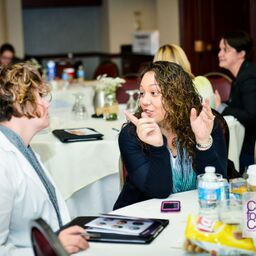 So, get registered.  There are just 25 early bird seats available for $75.  But, if  you miss the early deadline, don't worry.  Regular tickets are $5 off with the following code:
[button url="http://themomcon.com/#section-register-2″ target="_blank" color="pink" size="medium" border="true" icon=""]Register[/button]
If you want to win a ticket, of course, Brown Mamas has got you covered!  Just enter the Rafflecopter giveaway below! I'll see you at The Mom Con!
This content has been sponsored by the Mom Con. However, all opinions remain my own. #momswhorock #themomcon