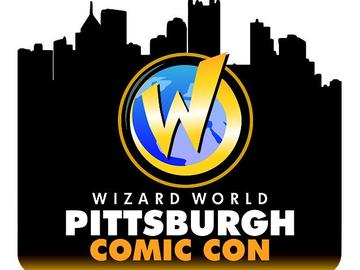 Do your kids love video games, comic books, Dragon Ball Z or WWE?  What about you, were you a lover of Star Trek, Mario Brothers or any superhero as a kid?  If so, you probably already know that Wizard World will be at the David L. Lawrence Convention Center this weekend, Friday, Nov. 4 to Sunday, Nov.6.
Wizard World, Inc. (OTCBB: WIZD) concludes its 2016 schedule with its second trip to the David L. Lawrence Convention Center at Wizard World Comic Con Pittsburgh, November 4-6. "Daredevil" stars Charlie Cox, Jon Bernthal, Elden Henson, X-Men standout Evan Peters, Nichelle Nichols("Star Trek"), WWE® Superstar Finn Bálor and Sonequa Martin-Green ("The Walking Dead") headline the roster of celebrity guests scheduled to attend the pop culture extravaganza.
Tickets start at $35 for a one-day pass. Click here to see other pricing options.  Brown Mamas is partnering with Wizard World Pittsburgh to offer a special giveaway to our readers.  Scroll down to learn more.
For parents, Wizard World Pittsburgh convention has all of our favorite TV characters.  The stars of XMen, The Walking Dead, and Daredevil, just to name a few.  Wizard World comic and gaming con events bring together thousands of fans of all ages to celebrate the best in pop-fi, pop culture, movies, graphic novels, cosplay, comics, television, sci-fi, toys, video gaming, gaming, original art, collectibles, contests and more. Wizard World Pittsburgh show hours are Friday, November 4, 3-8 p.m.; Saturday, November 5, 10 a.m.-7 p.m.; Sunday, November 6, 10 a.m.-4 p.m.
Enter our giveaway below to win 4 FREE tickets to Wizard World at the David L. Lawrence Convention Center this weekend (November 4-November 6). The winner will be announced Thursday, November, 3rd.  The winner will receive an email and the be announced on Brown Mamas Facebook page. May the odds be in your favor.