Just because your holiday budget is tight, doesn't mean your Christmas spirit has to be.  Our family never does a huge Christmas, but I vowed this year that I was going to give the house some holiday spirit by decorating the mess out of it.  This is the big gift I'm giving to my children this year.  For those of you who know my story, you know that budget-wise this was going to get sticky.  I can't afford to go to Home Depot or Target and stock up on brand new wreaths, or put up Christmas lights that are going to hike up my electric bill. However, what I found was that by taking a trip to my local bargain store (like a dollar store or 99 cent store) and rummaging through all of my old linens and decorations made my home look and feel just like Martha Stewart's at Christmas time.  Here are 4 affordable and easy ways to upgrade your house for the holidays.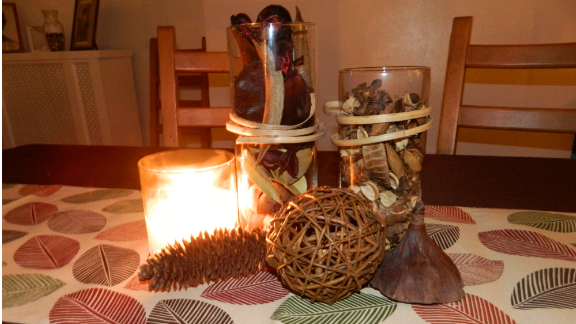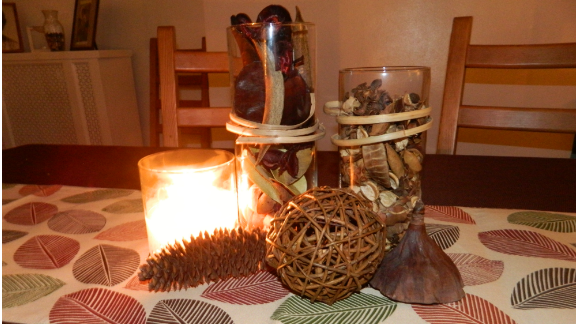 1. Make a holiday centerpiece on your table using fake flowers or candles
This was my first upgrade.  I went through my old Christmas decorations and found some flowers that were stuck on a wreath, a vase that was likely attached to flowers my hubby purchased for me for Valentine's Day and other old spritz and evergreen and Viola.  A holiday centerpiece.  You can also get candles, fake flowers and a table runner at the dollar store.
2. Make Bath Time & Washing Dishes Festive
Upgrade your towels and wash clothes.  I love this idea because it's part of your daily routine to complete these activities.  Every time you use your "Merry Christmas" hand towels or get out of the shower to your plush green towels, you'll remember the holiday season.  During this time of years you can easily find sales at local department stores for towels.  Or, if you're smart, wait until the day after Christmas when anything with green and red on it will go on sale.  I decided I was going to give my family the gift of decorations last year, so I had a year to plan.  Mamas, you should do the same.
3.  Get that Christmas Smell
These days you don't have to have pine cones in your house, or boil cinnamon to get the smell of Christmas in your home.  You can do this easily through candles, cinnamon-scented pine cones (kill two birds with one stone) or cinnamon sticks that you can place in a large vase or just bundle them and lean them in a corner.  Often times are senses are what ignite our emotions to get in the holiday spirit.  Getting the smell of it right, is the first step.
5. Decorate your Staircase with Tinsel & Ribbon
The minute I tried to spruce up my staircase my sons started sliding down it.  It got a little hectic, but the kids loved the warmth it brought to our home.  All you have to do is get some Christmas fluff, as my hubby says, and wrap it around your staircase.  You can also use ribbon or even hang bulbs from the tinsel.