When most of us mamas think of our ideal husband, we think of a man wearing a three-piece suite who works in a skyscraper and drives a Benz.  Well those are beautiful daydreams, but let's be honest there aren't that many of those men who happen to be the same shade as us brown mamas.  Furthermore, what I've found is that this demographic of men aren't the only brothas capable of being good husbands and fathers.  If we look a little closer there are some undiscovered diamonds in the rough hiding right in our communities.
Here's my list of occupations that contain men who might be marriage material.
1. The Construction Worker or Handyman
These men not only know how to fix everything at your house, eliminating plumbing, electrician and general contractor bills, but they also clean-up pretty nice.  Men who have worked in construction are no strangers to hard work and often have hard bodies…lol  So, don't sleep on the plumber the next time your toilet gets clogged.
2. The Janitor
All I have to say is pension.  If you meet a janitor who happens to work for a school district, the city you live in or any other government-run organization, they likely get a pension. On top of that janitors often have good temperments having lived a life, essentially, of servitude.  Most of the janitors I know are married or in serious relationships, so if you meet a single janitor, put him on your marriage material man map.
3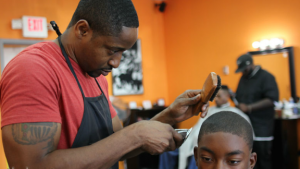 . The Barber
Some barbers are scandalous, let's be honest.  But usually, the man who owns the barberhshop is a little more settled in life or is looking for someone to ground him.  These men are typically excellent entrepreneurs and don't stay broke very long.  They know how to create relationships and have usually won over the residents of the communities they work in.  If you can find one who is ready for a real relationship, make an appointment to get your elbrows sculpted and reel him in mama!
4. The Salesmen
Now mamas we are not talking about street salemen, but men who sale legal  products or services for companies. The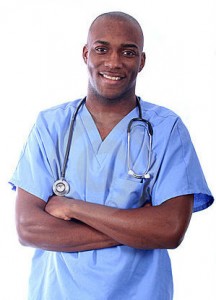 great thing about being married to a bonafide salesmen is that if he's good at what he does, he'll hardly ever be without a job.  Good salesmen are the first hired and the last fired.  On top of that they are charismatic, making them excellent fathers, and can talk you right out of your panties.   So while you should be on the look out for real con men, brothas who work as corporate salesmen should be on your marriage material wish list.
5. The Nurse
Everyone thinks that men who work as nurses are soft.  That might be true in some cases, but for the most part men who work as nurses have all the qualities necessary to be a good dad and tender husband.  They know how to take care of kids, are educated and smart enough to have good conversations and make pretty decent money.  Plus, you'll cut your doctor bill in half with the in-house visits he can give you.  At your kid's next check-up you should be checking out the guy with the stethescope.