The longer I am married the more my husband seems to amaze me.  I thought that as time went on our relationship would become mundane and less fun, but just today we played basketball together for the very first time.  It was in the spirit of giving our children parents who love each other and that they can be proud of that we both took the day off work on May 19th.
May 19th is Malcolm X's birthday.  We decided a few months ago that we would keep the entire family home for this special day which for the Mendozas symbolizes unity among people-of-color and an effort to put community first.  My husband and I read about the history of the observance of Columbus day and how Italian Americans did not ask the federal government to recognize the day that for them marks the discovery of the "New World," they simply decided that in their homes and communities they would take the day off to recognize a significant milestone in their culture.
After reading this, our wheels began to turn.  My husband and I decided to take the day off to do something in our community that builds upon our family legacy and makes a difference.  As a North Side Ambassador, my family is currently reclaiming a vacant lot near my home.  So hubby and I had breakfast at Panera Bread, purchased some glass Tupperware and spent our afternoon raking, pulling weeds and fussing at each other between blowing kisses.  We let the children play and enjoy themselves for the day.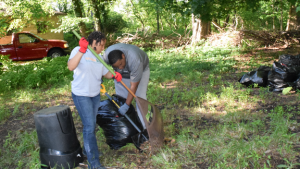 It may not seem like a whole lot, but committing to a family first lifestyle and being steadfast in our mission to leave a legacy of pride for our children is what has kept our marriage strong.  Every pile of leaves we rake and every weed we pull puts us closer to the goal of providing our children with parents they can be proud of.  On top of that, we learn things about each other we never knew before.  (My hubby had no idea I was so good at shooting hoops…lol)
I believe that was the side of Malcolm X that many people overlook.  Malcolm X was committed to his family both behind closed doors and to the public.  Malcolm X was faithful to his wife, protective of his children and stood strongly for his community. The Mendozas believe in the family values that Malcolm stood for.  We believe that people-of-color all over the world should decide once, and for all, that they will not ask for their communities back, but that they will take them.  Couples (and singles) should get behind a cause and pass on that commitment to our children.  With race relations in our beloved country bubbling over, it is high time that we began to take off our blinders and see each other for the beautiful brown people that we are capable of being.  It is time we started cleaning up our neighborhoods one block at a time.  We should begin instilling the dedication and rich history of our great ancestors in our children by acknowledging their birthdays and accomplishments.
The Mendozas are well on our way to doing these things and we are excited about what all the coming May 19ths will bring.  What does your family do to set precedent for your children and communities?