When you're making your moving checklist you will do a lot of the obvious things, like get
homeowners or renters insurance
, buy boxes and get your utilities switched over.  But, it's the small things that you'll forget that are going to be a pain in the butt during the dog days of moving and in the days afterward.
That's why I made this moving checklist.  I just moved into a new house, and while I thought I was prepared, there were so many things I wish I would have done differently.  While we didn't forget any of the BIG things, like
getting insurance
, we had way too much stuff to move and spent a lot more money than we anticipated.
Here's a moving checklist that works whether you are moving in Pittsburgh, or anywhere else in the world.
Donate, Donate, Donate 'Til You're Satisfied
A good friend of mines gave me the advice to take as much of our old and unused items to the Goodwill prior to moving as possible.  Now, I'm giving that advice to you.  Clean out every junk drawer, closet, file cabinet and cupboard.  The Salvation Army, local food banks and the reliable Goodwill will take everything from furniture to unopened food. If you are moving in Pittsburgh, check out your local Free Store.  They take baby items, household items, clothes and tons of other stuff.  Please don't move with your 10-year-olds stuffed bunny that's been in the back of her closet since she was 3.
Cook Like Your Pocket Depends on It
Chick-Fil-A, the local pizza shops and Eat N' Park made so much money off of us when we moved.  I only had one meal prepared and then we ate out during the rest of our move and in the days afterward.  Add cooking at least one week's worth of meals and freezing them to your moving checklist.  If you are moving with your family, like we did, you're going to need all of your extra coins to budget for the little things below.

Budget for the little things
Buying tons of garbage bags, purchasing curtains for our new house, an extra hour with the movers, getting extra cleaning supplies and filling up our van with gas as we travelled back and forth between our new home and old home were small expenses that really added up. Put together a small moving budget that takes big things, like
insurance
, and small things, like box labels, into account.
Pick a Delivery/Install Day
Rather than having your cable hooked up on Friday and washer delivered on Tuesday, pick one day to have everything delivered, installed, etc.  Remember, you'll be doing a lot of back and forth.  Save time and gas money, by adding a specific delivery date to your moving checklist.
Finally, Prepare for the Unexpected
Guess what happened to us two days after we moved in, our basement flooded.  That's right.  The immense amount of garbage the former occupants left in the driveway caused water to go down the basement steps and into the basement.  The flood was minor, but thank God we were covered!  
Jetty Insurance
is a new line of insurance products that will make sure you're pockets and stuff are safe guarded from day one in your new city-dwelling.
If you're a bonafide urbanite like me, and are afraid that zombies, bears and lions lurk in rural areas, then Jetty Insurance is just right for you.  (It's
renters insurance
made specifically with city-dwellers in mind.)  It not only covers your stuff, in case of a zombie apocalypse, it can also help you out with security deposits, allowing you to pay just 18% of your security deposit instead of the mind-boggling double rent payment.  Jetty insurance also helps renters meet those pesky housing income requirements.  Jetty will act as your co-signer for a small fee.
Learn more about Jetty's Passport Deposit here.
(help with security deposits)
Learn more about Jetty's Passport Lease here.
 (help with housing income requirements)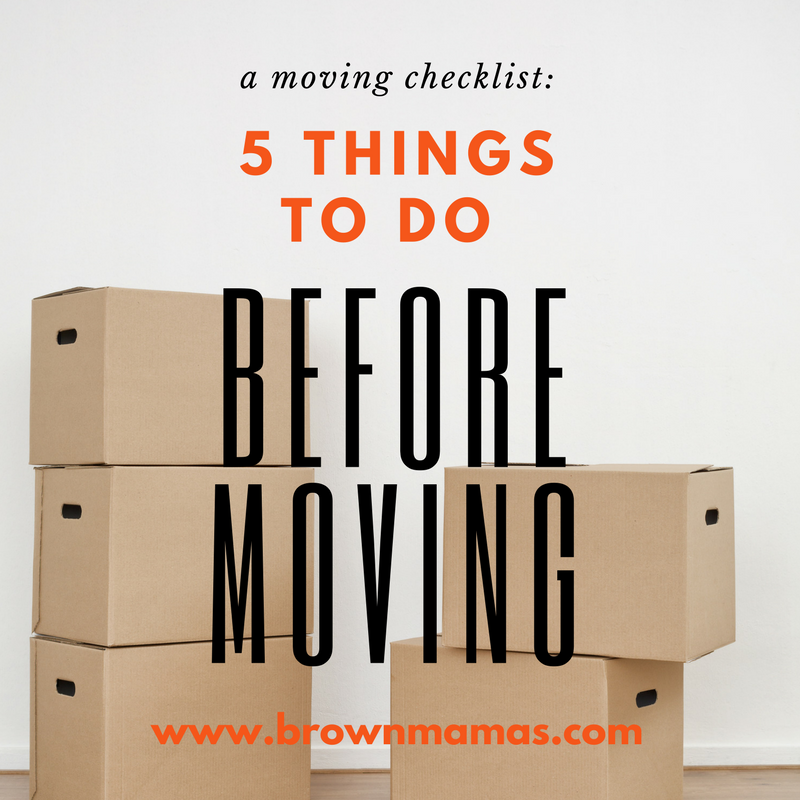 If you are a responsible renter, meaning you won't wreck your rental during girls night out or skip out on monthly payments, both of these products can be a huge help when searching for your next city landing spot.
Well mamas, I hope these moving tips helped you out.  If I ever move again, I seriously love my new city crib, I'll be using these moving tips for much smoother sailing.  
Jetty Insurance compensated Brown Mamas for this post, however, I did move and these tips are real, so real.