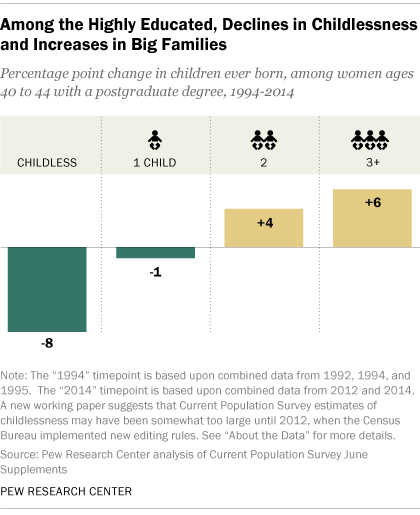 A new report released Thursday by the Pew Research Center says that black and Hispanic mothers, ages 40 to 44, are especially likely to have larger families.
Pew's study, which focuses on the increasing number of educated women opting for motherhood, said the decline in share of moms with four or more kids has dropped significantly among black mothers. 18% of black moms have four or more children, compared to 20% percent of Hispanic moms. In comparison, 11% of white mothers have four or more children, as do 10% of Asian moms.
Although the study noted that in Hispanic families the tendency toward families of four children or more continues to be the norm, Black women between the ages of 40 and 44 are running neck and neck with White women in their decision to be childless.  15% of Black women in that age bracket choose not to have children compared to 17% of their Caucasian counterparts.
Among mothers ages 40 to 44, Hispanics are the least likely to have only one child at 17%. 25% of black moms have had just one child, as is the case for 23% of white moms and 22% of Asian moms.
In terms of being childless, the report finds that Hispanic women are least likely to remain childless through their child-bearing years than non-Hispanic whites or blacks. Some 17% of white women ages 40 to 44 are childless, as compared with 15% of black women in the same age group, 13% of Asian women, and just 10% of Hispanic women.  Click here to view the entire study.