I'm proud to be working with CVS Pharmacy on the CVS Pharmacy Difference Campaign. All opinions expressed are my own, and all product claims or program details shared should be verified at CVS.com or with the appropriate manufacturers. #TheCVSDifference
I'm a mom who wears many hats so saving time and money is always at the top of my list of things to do.  I homeschool, run a household, run a part-time business and basically run myself crazy most days.  When I heard that CVS was partnering with Target stores I knew this would be a time-saver for me.  Here are 3 ways I'll be saving time using CVS Pharmacy this winter.
I'll be picking up my CVS prescriptions while shopping at Target
Winter is coming, as the popular show Game of Thrones likes to constantly remind us.  With winter comes snotty noses, ear infections, colds and the dreaded flu.  So, it's great that I'll be able to pick-up winter socks and my prescriptions in the same place.  Here are a few things you should know about picking up your prescriptions at the new CVS Pharmacies inside of Target stores:
If you are a former Target pharmacy customer you do not need to do anything.  CVS has your health records.  All you need to do is visit CVS at Target and pick up your prescription.
Both former Target pharmacy customers and CVS Pharmacy customers can pick up their refill prescriptions in Target stores.
Target's pharmacy rewards programs is no longer being offered.  You can sign up for CVS ExtraCare rewards program by clicking here.
I'll be using the CVS pharmacy App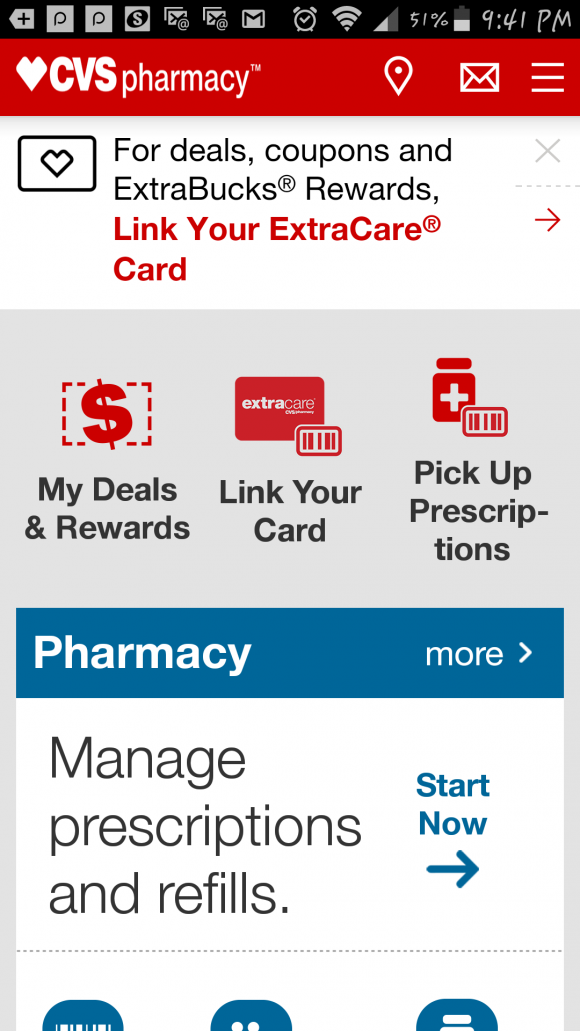 You mamas know I love apps.  I have an app for comparison shopping, an app to keep track of my kid's cell phone usage and now I have an app for filling and picking up my prescriptions.  My husband has seasonal asthma.  That means that in the winter it is super important that he dresses warm and keeps an inhaler by his side.  With the CVS Pharmacy app I never have to worry that my husband won't be able to get the medicine he needs.  With the app I can:
Get reminders to fill prescriptions for myself and entire family
Link my CVS ExtraCare rewards card to my CVS Pharmacy app to keep track of my ExtraBucks and special offers
Make appointments at the in-store Minute Clinic
Pick-up my prescriptions at CVS Pharmacy in Target
[button url="https://play.google.com/store/apps/details?id=com.cvs.launchers.cvs" target="_blank" color="red" size="medium" border="false" icon=""]Get App for Android[/button] [button url="https://itunes.apple.com/us/app/cvs-pharmacy/id395545555?mt=8″ target="_blank" color="red" size="medium" border="false" icon=""]Get App for Iphone[/button]
I'll be visiting the Minute Clinic at Target
One of the awesome things about CVS moving into Target stores is that the
MinuteClinic
will become even more convenient.  The former Target Clinics will

become MinuteClinics.  I used to have to drive 7 miles to get to my nearest MinuteClinic, now I only have to drive one mile.  Here are just a few of the services offered at the new MinuteClinics at Target stores:
vaccinations for flu, pneumonia, pertussis and hepatitis
treat minor wounds, abrasions, joint sprains, and skin conditions such as poison ivy, ringworm, lice and acne
diagnose, treat and write prescriptions for common family illnesses such as strep throat, bladder infections, pink eye, and infections of the ears, nose and throat
The best thing is you do NOT need an appointment.
 Just head over to your nearest MinuteClinic and get checked out.  
Click here
to get a complete list of services offered at MinuteClinics. Got more questions about the CVS Pharmacy and Target partnership? 
Click here.