This content was sponsored by The Motherhood and Northwood Realty.  However, all opinion are my own.
If you are a #goodmama, you know my legacy worries.  At this point in my life, entering my mid-30s, the legacy I'm leaving to my children is always on my mind.  How much money will I be able to leave to my children and still have a comfortable retirement?  Will my children be hard-workers?  Am I teaching them everything they need to be successful? Those are the questions that run through my mind every night before I go to sleep.  So, when I met #NorthwoodMom Celeste Kasten and her mother, Marguerite, I instantly thought, "Wow, that's how you leave legacy for your kids!"
Celeste is a successful Northwood Realty Agent out of Salem, Ohio who learned the tricks of the housing trade from her mother, who now makes million dollar deals.  I listened to Celeste talk about how much time she spent riding in the car with her mom when she was showing houses and the resourceful decorating style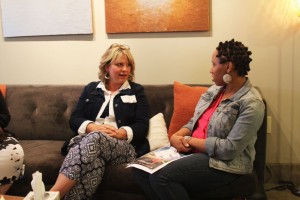 she has inherited from her mother due to the countless hours they spent preparing homes for sale. Now, as a mother of two and successful Northwood Realty Agent, Celeste is passing those same skills and know-how down to her kids.  Hearing her speak,  made me think about the little things we do daily in our careers, homes and with our families that pass the legacy of good living down to our children.
During our 'around the room' discussion so many of the mom bloggers (like my blogger buddies Heather Hopson from DiaryofaFirstTimeMom.com and Kelly Hughes of PghMomtourage.com) and the Northwood Moms talk about balancing career and family life and how choosing a career (whether it be blogging or selling homes) allowed them the flexibility to make their own choices about how to spend their time.  To paraphrase, Northwood Mom Susie Holmes said:
[quote title="Title" Text="When my laundry is piling up, my business is successful, but when the house is neat and clean my business is a mess.  But, it's my choice." name="Susie Holmes" name_sub="Northwood Mom"]
Celeste and Susie, coupled with the tasty mini-cheesecakes I gobbled down, definitely peaked my interest in a real estate career with Northwood Realty.  (Especially if they have snacks at each meeting!)  Brown Mama Tiff (of The Best You) joined me in learning more about real estate through the eyes of the Northwood Moms.  She nicknamed some of the agents because of their abilities to simultaneously juggle home life and career.  There was Super Susie who had three children in three years and still managed to begin a career with Northwood that allows her flexibility at home and work.  Then there's Wendy Kelly, who she nicknamed Wonderful Wendy, for her supermom status.  You can meet both of them (and my favorite #NorthwoodMom Celeste) in this video.
To learn more about starting a flexible career with the Northwood Moms, visit
NorthwoodForMoms.com
!