Got a rusty baking pan or cast iron skillet like this? You don't have to throw it out, but you also should not cook on it without removing the rust first.  Using these natural steps can help ensure your cast iron skillet and other rust-prone cookware is usable for years to come.
How to Clean a Rusty Baking Pan or Cast Iron Skillet
1.
Rinse the pan and shake it dry – do not wipe it with a towel.  You need it to be slightly damp.
2.
Dust the damp pan with baking soda, taking special care to cover the spots that are rusting.  (See I told you that dampness would come in handy.)
3.
Leave the dusted pans for about half an hour.
4.
 Use a scourer to gently clean the pan.  Get rid of all of the rust leaving just the exposed metal underneath thee rust.
5.
Rinse the pan to get rid of all the baking soda and towel dry it.
6.
 To make sure your pans remain rust-free coat them with cooking oil.  My Nana used to do this all the time.  Especially, with her cast-iron and Teflon pots and pan.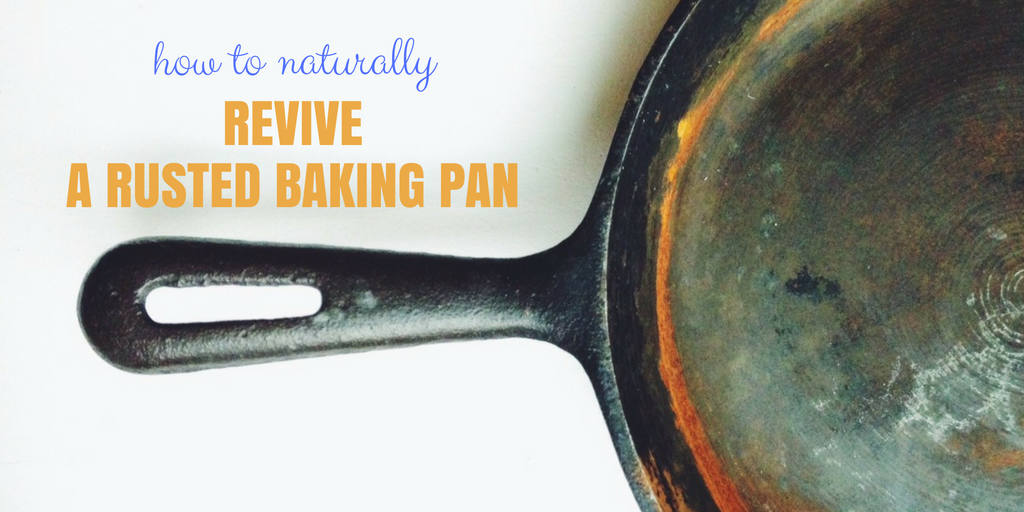 Tips for Maintain Pots & Pains:
Do this process with all your pans at least once a year to avoid rust.
Oil is not bad for your pans! Don't panic if they build up a layer of oil to protect from rusting.
Stop using the dishwasher on your skillet and pans that you want to keep rust-free.  Just use a soapy rag to gently wash them out.  Remember, the oil is good!
Read More:
The Essential Guide to Cookware
How To Dry Your Own Herbs in 5 Minutes
Tips on Feeding a Family of Boys