This shop has been compensated by Collective Bias, Inc. and its advertiser. All opinions are mine alone. #BacktoSchoolSimple #CollectiveBias
Feeding boys three square meals everyday is a challenge, especially when you have 3.  This will be my first year homeschooling all three of my boys, including my 14-year-old, 6 foot son.  He's a pretty smart kid, so the learning part doesn't worry me.  It's the part about feeding him three times-a-day that has me straight terrified.  On average he needs 3 full meals a day and two snacks and that's not to mention what the other two vikings are taking down in one day.
Thank God that Giant Eagle is literally 5 minutes away by car.  I'm going to need them this school year.  Feeding my boys is about to have me on a first-name basis with their cashiers.  Giant Eagle has everything I need to make sure my boys have a healthy breakfast, filling lunch and an afterschool snack to tide them over until dinner time.  This past grocery trip I picked up Pretzel Goldfish Crackers, Giant Eagle String Cheese,  JIF Peanut Butter, Smuckers Fruit Spread, a Bolthouse Juice Smoothie and 2 packs of Nature's Basket Fruit and Grain Bars to help me create school time meals for my three boys.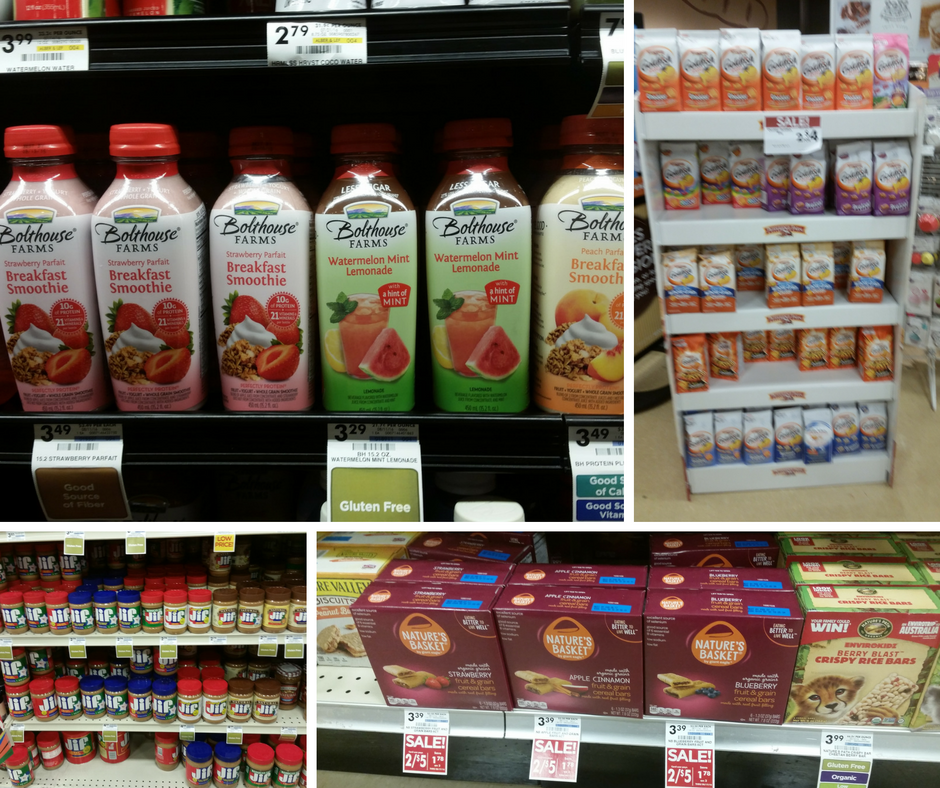 Rule No. 1: Give them a Smoothie EVERY Morning
My boys love smoothies and I hate blending.  Putting all that fruit in the blender and then removing the pulp can be a pain.  But pairing a smoothie with a fruit & grain bar or a breakfast muffin and some eggs, is a super filling breakfast meal for a boy.  Skip all the blending hassle and just use a Bolthouse Juice Smoothie.  You can always add some chia seeds or a banana to give it some more substance.  Bolthouse Juice Smoothies are available at Giant Eagle in the produce section.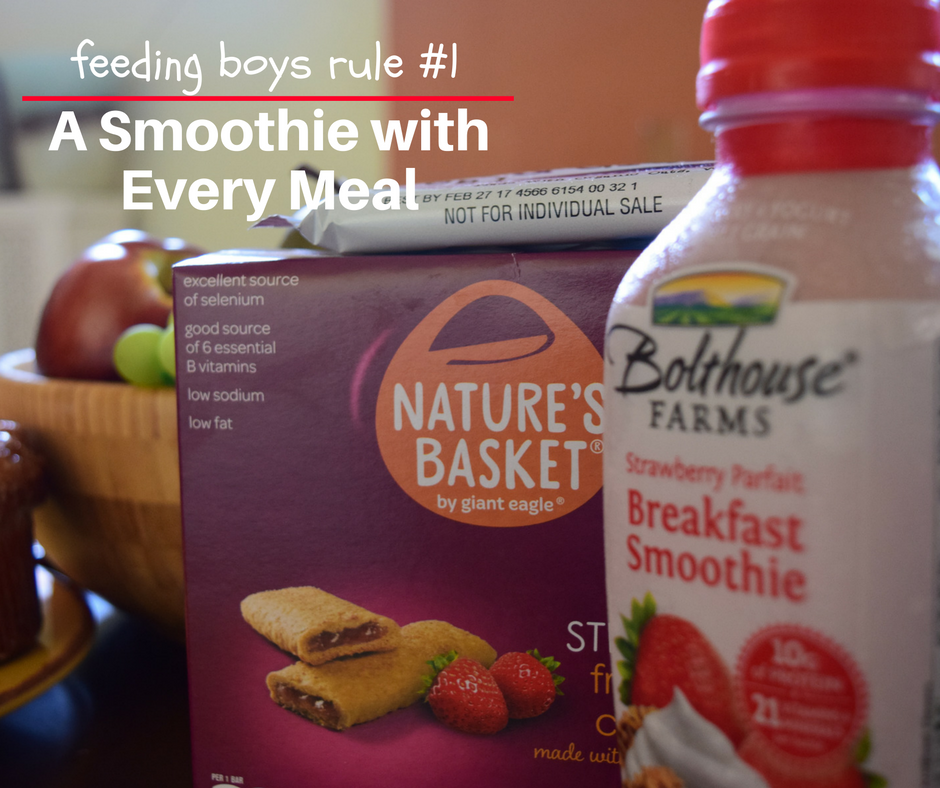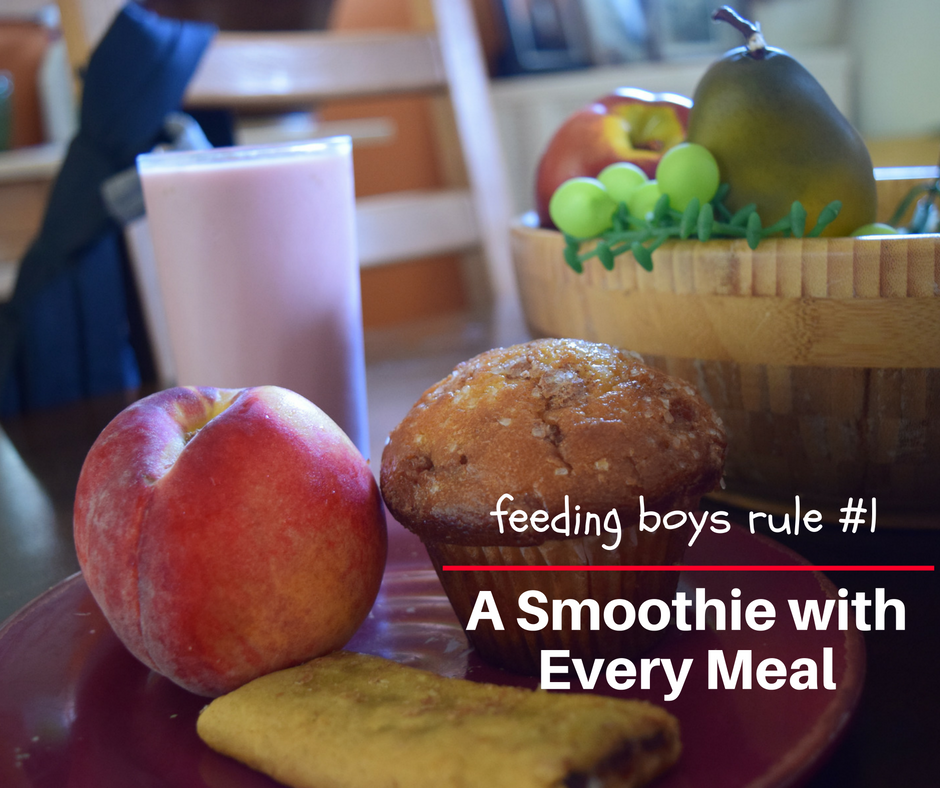 Rule No. 2: When Feeding Boys Make Sure they Have 2 or More Sides At All Times
Boys need lots of sides.  One sandwich all alone will not do.  
Giant Eagle
has everything you need for PB&J and more. I pair my boys sandwiches with fruit, string cheese, granola bars and goldfish crackers and more.  And, never be afraid of leftovers at any time of day.  If your kid didn't eat their fruit bar this morning, give him that fruit bar when he gets home from school and quit playin'.  Here's what lunch time looks like for the hooligans.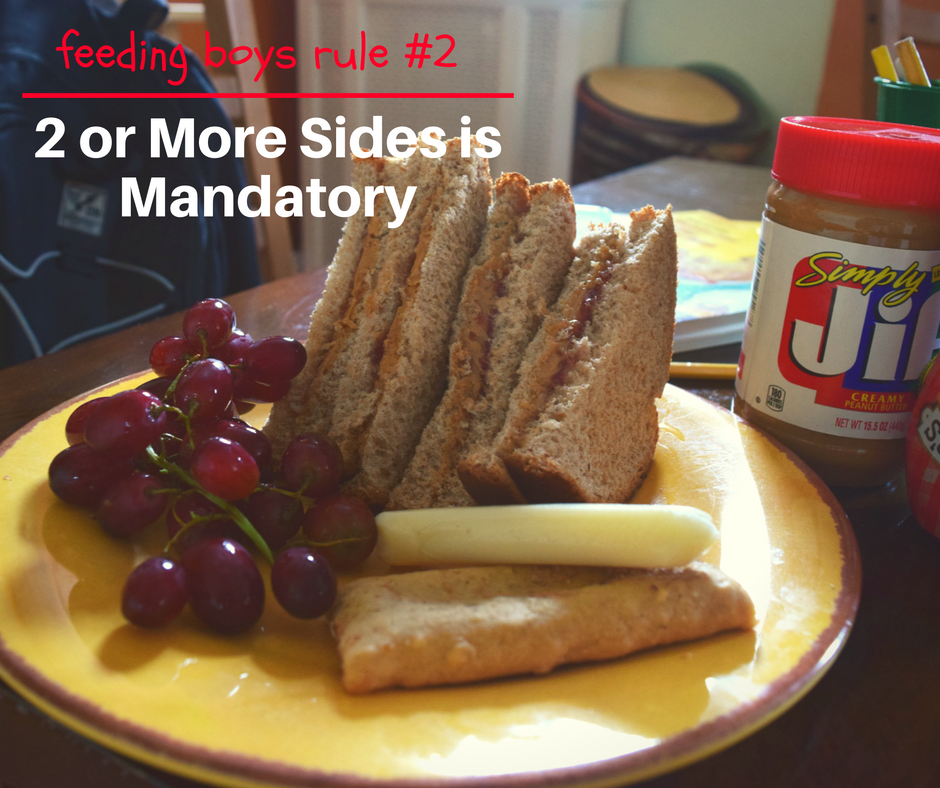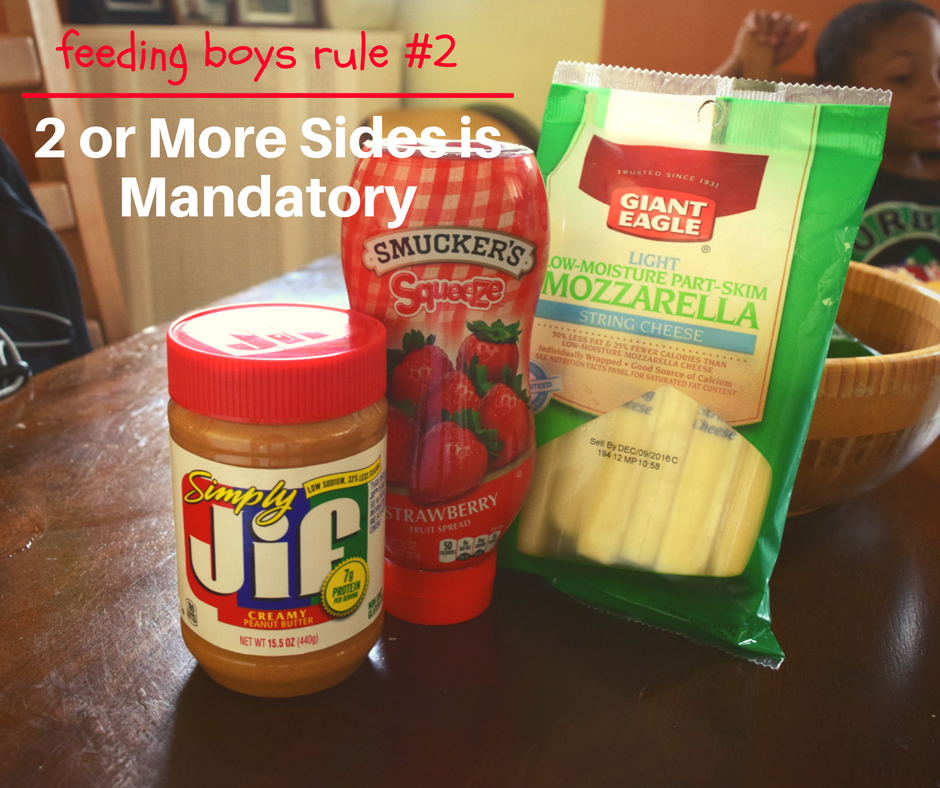 Rule No. 3: Make Snack Time Filling & Exciting
When you tell a hungry boy they have to wait another hour until dinner time you better believe they're going to be disappointed.  When feeding boys give them a snack that will keep their mouth so full they won't be able to complain about it.  I used Pretzel Goldfish Crackers right from Giant Eagle's snack aisle to make these yummy Sweet n' Salty Popcorn Balls.  AND, it only took me 20 minutes to whip them up.  Check out this tasty after school snack recipe.  Don't forget to add this to your Pinterest Board with the image below!
[amd-yrecipe-recipe:5]
[callout title='Shopping Back-to-School Food?' text='Giant Eagle is convenient and has everything you need to make sure your kids get a hearty, healthy meal. Visit your local Giant Eagle for all your back-to-school lunch time and after school snack time needs!  ' button_text='Shop Now' button_link='http://cbi.as/4qkvk']