What can I say about Ms. Keira and motherhood?  Or the question, should maybe be framed what can't I say about Keira and motherhood.  Keira literally lives her best life with her kids along for the ride.  She is a mother of 5 who is teaching her children everyday that being a mom doesn't mean you stop dreaming and living your best life.  I remember going to watch her dance at the East Minster Church in East Liberty, and in addition to being impressed by her team of African dancers, I equally admired that her children were sitting in the audience, enjoying the show and even got up and danced at the end.  I thought to myself, that's how you do business.  You get your whole family involved.  What I loved about Keira's mothering technique was that she was teaching her children through life.  She was showing them that they weren't burdens to her goals, but enhancements.  So, here's Mama Keira's take on motherhood!
1. How did you feel about motherhood when you first became a mom?
I became a mom in 2002 before I was ready to, I was 19.  To be honest, I hated it.  I didn't understand what motherhood was about, and I hadn't grasped how much responsibility it was going to be yet.  I just was not ready.
2. How do your feelings about motherhood differ now?
Now, I love being a mom.  I couldn't even see myself as someone without children.  It brings me joy to see myself reflected in them; the things they say and do are a reflection of me.  They give me life, even through the bad times they are literally giving me life.  Everyday that I have them is a happy day for me.  I see them enjoying themselves and I make sure they know that that's what makes me happy.
3. What do you think makes you a #goodmoma?
The love that comes from my children makes me a good mother. Their love, excitement, silliness and smiles give me the strength to go full force in motherhood.  I love my children and I try to show that every day. I represent them and they represent me and as representatives of each other I try to set positive examples and serve as the best role model that I can to make sure that they strive for more, achieve higher, and have no limitations on life.
4. Give us one of your #FunnyMommyMoments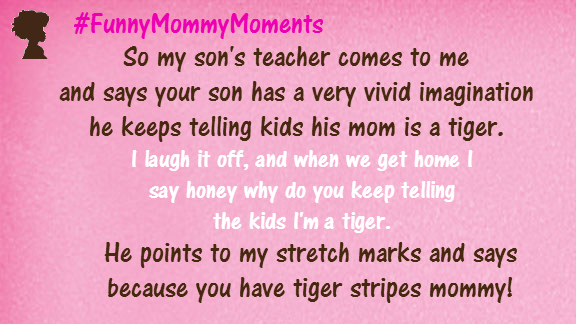 4. What do you think are common misconceptions about Black moms?
I feel as though moms of color have a bad rap due to inner city stereotypes. Such stereotypes such as all women seen alone are "baby mommas" with absent fathers. When we are seen on the bus with our children going to or from town, we are thought of as welfare mothers.

As moms of color, we can't give any mileage to the stereotypes either. The fighting in the street and the media fighting via Facebook, Instagram, etc., the twerking videos……all of those things increases our struggle to come out of those mislabeled setbacks. We can't move the misconception cloud but we can make sure that our steps are the steps that we want our children to follow in.
5.