This salmon chowder recipe is the BOMB! If you're tired of eating chicken soup and beef stew this winter, try this cold-weather take on salmon soup. This lasted us for a total of 3 meals. We ate it for dinner one day one and for lunch and dinner on day two. I served this salmon chowder recipe with dinner roles the first night and cornbread the next.  The vikings boys who rule live at my house loved it! I hope you enjoy.
Salmon Chowder Ingredients:
4 tbsp. olive oil 1/2 of a large sweet onion, diced 1/2 medium sized fennel bulb (dice and save fronds for garnishing) 5 medium carrots 2 cups corn 1 tbsp. paprika 1 tbsp. salt 3 bay leaves 1 cup clam juice 1/2 cup clam stock 2 1/2 cups of skim milk 1/2 cup cream 3 medium sized potatoes 1 lb. fresh salmon (remove bones, slice into cubes) 2 tbsp. garlic salt for seasoning salmon 2 tbsp. Tones six pepper seasoning blend for seasoning salmon 1 tsp. cayenne pepper 2 tbsp. parsley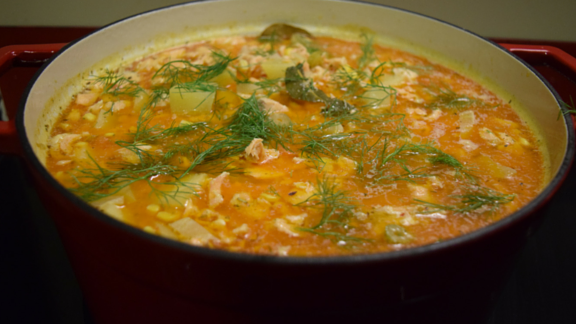 Directions for prep and cooking your Salmon Chowder:
Using a large Dutch oven or other heavy-bottomed stockpot, heat olive oil over medium-high heat. Add onion, fennel, carrots, paprika and salt to live oil and reduce the heat to medium-low and allow vegetables to cook until softened _a bit_. In the meantime, place cubed salmon in steel mixing bowl and sprinkle it with garlic salt and pepper seasoning blend. Once veggies have softened, put in bay leaves and increase to medium heat. Cook uncovered for 5 minutes. Add clam juice, stock, milk, potato and corn. Bring chowder to a simmer. *Do not let it boil or it will begin to look curdled.* Continue to simmer for about 30 minutes or until veggies and potatoes are rather tender. As chowder simmers, place seasoned salmon in large searing pan on medium heat. Sear salmon until it appears light pink and begins to break apart, about 10 minutes. Once chowder has simmered for 30 minutes, turn off heat and add salmon. Stir chowder to mix salmon in. Serve garnished with fennel fronds and parsley.
This recipe is good to feed 8-10 people a 2 cup serving of soup.
Don't forget to add this to your Pinterst Board!
[amd-yrecipe-recipe:1]
More on Brown Mamas:
How to Properly Bundle Your Babies for Cold Weather