There are tons of homeschool websites for Black homeschoolers to utilize in properly educating our children. Blogs, curriculum resources, homeschooling Facebook groups, science experiment YouTube channels; we will need all of these resources as we embark on our journey toward educating our own. I've used quite a few of these resources as I've began my journey in homeschooling. Here are a ton of websites black homeschoolers should know about.
Brown Mamas' Homeschooling Resources – After 5 years of homeschooling, Muffy creates her own resources for homeschoolers. Check out the link for a guide to deschooling and an ever evolving list of homeschool lesson plans.
African-American Online Co-op – a website that enable African-American homeschoolers to purchase homeschooling products and services as a group for a discounted price.
African American Homeschool Moms – a blog with Black TED Talk videos, curriculum resources, a thriving Facebook Community and tips on the logistics of homeschooling.
Brown Mamas' YouTube Channel – a YouTube channel that addresses issue Black mothers, homeschoolers and parents, in general, are dealing with.
WideOpenSchool.org – Wide Open School collects all of the best educational videos, learning websites, live learning events and educational games from all across the web and puts them on one site. It also give you daily lesson plans that you DO NOT have to curate and access to all of it's learning partners like Khan Academy, Noggin and PBS Kids.
*[VIDEO] Here's a quick tutorial on how to use WideOpenSchool.org to create your entire weekly lesson plan in one hour.
DuoLingo – An adaptive language curriculum. Kids can learn most European languages (including Spanish) as well as Vietnamese. DuoLingo is also promising a Swahili program due out in December 2016.
Kamali Academy African-Center Online Curriculum – An African-centered curriculum that focuses on mental math, African history and other academic subject.
Ubongo Kids – From financial literacy to emotional intelligence and well-being, Ubongo's collection of YouTube Videos, apps and e-books help young learners develop the raw skills they need to excel in early education.
The Married Mommy – This blog has homeschooling section with a ton of great videos on teaching your kids to sew.

Girlfriend's Guide to Homeschooling with Angela Jordan Perry – a podcast that interviews homeschoolers throughout the African Diaspora hosted.
Education.com – A homeschool website with lesson planning resources for homeschooling families, including hundreds of worksheets, full lesson plans, links to videos and other information around the web.
The Black Homeschool – A site with articles on the history of Black children in the school system as well as homeschooling resources.
Easy Peasy Homeschool Curriculum – Complete, free online curriculum for kids from K-12. The curriculum is Christian-based and is a great resource to use in whole or part.
Hip Hop Homeschoolers – A blog run by an African-American homeschooler, this site has free printables and follows the story of a Black homeschooling family.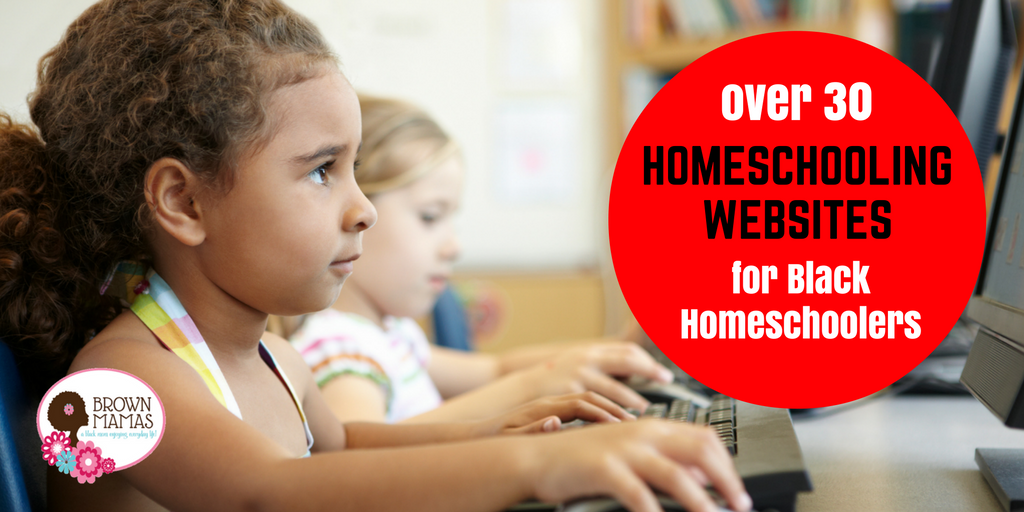 Homeschool Giveaways & Freebies – A homeschool website with tons, seriously TONS of free resources, worksheets, lesson plans, games, kid-friendly recipes and so on and so on.
Mosa Mack – Science curriculum for kids from 4th to 8th grade hosted by brown girl extraordinaire, Mosa Mack. Videos are free, but accompanying lesson plans cost cash.
Financial Leadership for Black Children – A course that teaches your kids economic fundamentals from an African-American perspective.
National Black Home Educators – A national organization that assist Black homeschoolers in finding support groups and also host a national conference.
Ted Ed – a ton of videos ranging from history profiles to science to life's peculiar questions. Ted Ed has a ton of educational videos on its YouTube channel.
Liberated Minds Expo – A national, annual convention for African-Centered homeschoolers and educators. The 2017 conference will take place in July 2017.
The Blessed Heritage Chronicles – This site has a ton of great resources for homeschoolers as well as a opportunity to watch a Black homeschooler in action. Part blog, part website, Blessed Heritage Chronicles gives out tons of info on homeschooling Black kids.
Khan Academy – An adaptive math program that can take your kid from addition to calculus, biology and beyond.
IXL Adaptive Learning Curriculum – An online curriculum for children from K-12 that adapts to your child's strengths and weaknesses.
Homeschooling Defense Organization – An organization that defends the American right to homeschool. This site also has information on homeschooling laws according to state.
HowtoHomeschoolforFree.com – Tons of links to homeschooling resources in every subject, for every grade that can be used for free.
ReadWorks.org – A huge library of reading material for kids grades K-12. Most reading sets come with questions and there are article-a-day sets that help kids learn a myriad of things about one subject.
CrashCourse – a YouTube channels that has tons of videos cover just about every subject from Chemistry to Astronomy, World History to Government.
Maroon Life Learning – Online science and history classes from and African perspective. (Afriventures & Afronauts)
Well Trained Mind – Online courses, tips and advice on teaching each individual child and literary resources for your homeschool. Well Trained Mind focuses on helping educators teach
Transcript Maker – For parents homeschooling high school students, use transcript maker to create a record of education for your child that will be acceptable for college admission.
Edx.org – A site for junior and senior high school homeschoolers. Edx aims to bridge the college readiness gap. It has a ton of free classes in everything from Essential Economics to Calculus and preparing to get your MBA.
Time4Learning.com – A comprehensive online, k-12 curriculum. Can be used to build homeschooling portfolio and high school transcripts.
Homeschool with Minecraft – Kids love Minecraft? This online curriculum teaches lessons using Minecraft as a tool to get excited. Kids will engage in history and science lessons while completing a building project in Minecraft to coincide with the assignment.
GamED Academy – Using Minecraft to teach creative writing, science and history.
Discovery Education – FREE lesson plans, videos and activities for homeschoolers.
StudyBlue.com – This site allows educators and students to create online flashcards. You can create your own flashcards or search the thousands of flashcards that have been uploaded by other users. Study Blue is also available as an app and can be used on a cell phone or tablet.
Morasheli.com – A blog/website with tons of homeschooler created lesson plans and curriculum from a Hebrew and African-Centered worldview.
IXL.com – An online learning platform for kids age K-12. This is a pretty comprehensive semi-curriculum that is great for helping kids master a subject and allowing parents to assess how well a student knows a subject.
Wilibooks.com – Free books, word searches and poems for kids from K-2nd grade.
Facebook Groups/Pages for Black Homeschoolers
Homeschooling websites are not the only thing you need in your curriculum arsenal, subscribing to Facebook pages, joining Facebook groups and finding Pinterest pages for homeschooling are great ways to stay up-to-date on what's happening in the homeschooling world and gain helpful supporters.
African-American Homeschool Network – a Facebook page that post information relative to Black homeschoolers
Nubian Homeschoolers – A Facebook page that post information on African-centered homeschooling
African-American Homeschool Moms (group) – A Facebook group of Black moms committed to homeschooling. They post experiences, articles and best practices in homeschooling Black children.
African-American History Homeschooling – This Facebook page post videos, books and articles that can assist in teaching African and African-American history.
African-Centered Homeschoolers (group) – A group of parents focused on homeschooling from an African-enter. They post experiences, articles, and best practices in homeschooling from an African-centered worldview.
I'm not a member of these groups on Facebook, but have requested to join. They sound interesting.
Black Homeschoolers Traveling Together
African-American Homeschool Gardeners
African-American Homeschool STEM Club
African-American Homeschool Crafters
This list will be constantly updated.  Check back once in a while for new homeschooling websites. Check out these other articles for black homeschoolers too,
10 African-Centered Curriculum for Black Homeschoolers
5 FREE Online Activities to Teach Kids Black History
How to Finish Your ENTIRE Weekly Lesson Plan in ONE Hour