Being a mompreneur is not easy; especially, if you homeschool your children.  Getting my sons involved in the day-to-day running of my business is one of my goals for this coming school year.  While I'm sure it will not be easy, I'm determined to make every person in our family an asset to our family business.  Many moms think their children will learn entrepreneurial and financial savvy from school.  While they can pick up some fundamentals there.  Nothing teaches kids how to run a business like being apart of a business.  With that in mind, here are 4 Ways to Make Your Kids an Asset to Your Business.
1. Janitorial Service
Drake says it best.
Started from the bottom now we here!
Teaching your kids to keep your office clean is the first step in being a good entrepreneur.  Someone has to work in the mail-room, keep the floors swept and the correspondence organized in every business.  Start your kids off in the janitorial department by making them the cleaners of your home.  You might want to set up a chart system (click here to see mine) to help them earn points for completing their business chores each day.
2. Use Social Media for Good
Do your kids love Facebook, YouTube, Pinterest.  Let them pick the social media platform of their choosing and start using it for the good of the family business.  I plan to ask my kids to spend 10 minutes each day promoting Brown Mamas on the social media platform they can use best.  If you have a family office like we do under your supervision they can pin images on Pinterest and upload your videos on YouTube.  Ten minutes ain't going to kill nobody.  Most jobs require online savvy these days.  Make sure your kids know how to use everything from Microsoft Power Point to Twitter and Pixlr.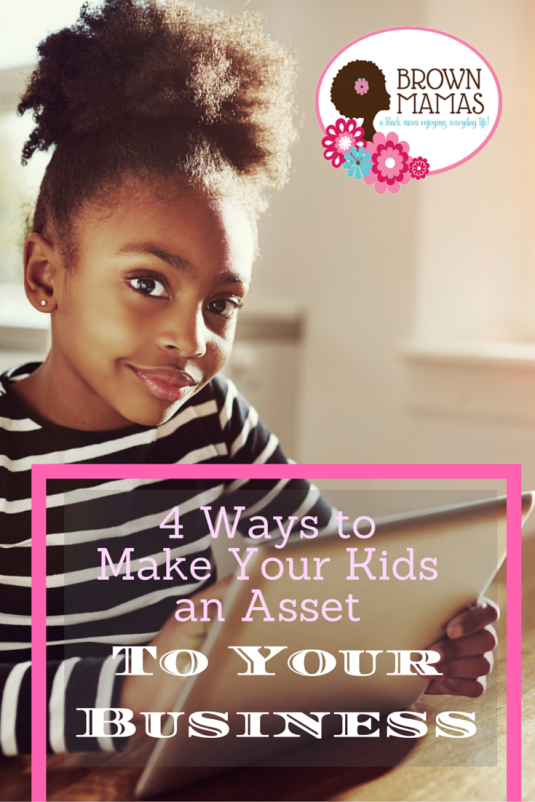 3. Promote inter-dependence among siblings and train older children in the art of Kindezi
Remember having to drag your younger sister or cousin to the mall when you were going with your friends?  Well it turns out, our parents knew just what they were doing back then.  In Africa, male and female children must go through Rites of Passage before adulthood.  One of the rites is Kindezi, the Congo Art of Babysitting.  Let's face it mama, your going to need some alone time to conquer that new business.  While you should not force your teen to constantly be with their younger siblings, there's nothing wrong with a tag-a-long once a week.
4. Learn to Stay in Your Place
Over the last few weeks I've been preparing to homeschool my children, and one thing I've learned is how little children actually need adults.  There are only a few things children need from us: guidance, access and encouragement.  That's it.  If we guide our children toward what is right, give them permission to access appropriate and useful  information and encourage confidence, they do all the rest of the work for themselves.  Learn to stay in your place, and you'll be amazed at how much you learn from your children.  Remember, your children are the living, breathing upgrade of you.  If you think you're smart, you ain't seen nothin' yet.
.@THEBrownMama Watch on #Periscope ? 4 Ways to Get your #kids involved in you #business … https://t.co/ikGc0pjIiN

— Muffy Mendoza (@THEBrownMama) September 10, 2016
More Articles on Running Your Business:
3 Anchoring Activities for Your Morning Routine
3 Steps Toward Better Content & More Pageviews