I'm teaming up with the Campaign for Fair Education Funding to speak out for students across Pennsylvania. Although I am receiving some form of compensation, all opinions remain my own.
#FairFundingPA
.
I've never been the crafty mom, or the three extracurricular activities in one week mom, or the mom who hovers over her children like the Goodyear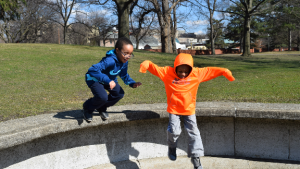 blimp at the park.  I'm just one of those laid back moms who plays it by ear and does the best she can do for her children.  So, when my husband and I first began talking about homeschooling a year ago, although I agreed philosophically that our children were not getting the best education possible in the Pittsburgh School District, I was not super excited about the possible change.  All I could think about was the countless hours I'd likely spend in the vastness of Pinterest searching for projects, and the 24-hour demands of trying to keep the attention of two 5 and 6-year-old boys.
However, when I compare the love, one-on-one attention and dedication I could offer my boys to the overcrowded, underfunded and failing schools in my neighborhood, it was a no-brainer. Although I am going to homeschool my children, I'm still fighting for improvements to be made within the public school system.  I am throwing my support behind the Campaign for Fair Education.  On Tuesday, June 23, I will be boarding a bus to Harrisburg to tell our government that the creation of an adequate, equitable Basic Education Funding formula is important to my family and me.
[button url="http://fairfundingpa.com/" target="_blank" color="green" size="large" border="true" icon=""]Get on the Bus[/button]
According to the National Center on Education Statistics 2015 report, Pennsylvania has the widest funding gap between wealthy and poor school districts of any state in the country. Per pupil spending in PA's poorest districts is 33 percent less than in PA's wealthiest districts.
This explains why the elementary school closest to my home in the Northside section of Pittsburgh has been a failing school district, since I moved to Observatory Hill in 2011—maybe even before. It also proves why we need as many moms as possible fighting for fair funding in our state.
Charter schools, public schools, schools in cities, and schools in rural communities are all impacted by a funding system that is based on the financial means of a community rather than on the idea that every child deserves a fighting chance.  When my family gets on the bus to Harrisburg to demand #FairFundingPA, it is because we've seen firsthand what  an unfair funding system does to schools.  In recent years the results of our unfair funding system has been tremendous:
93 percent of school districts reduced staff;
50 percent furloughed teachers or other staff;
74 percent cut or reduced at least one academic program; and
57 percent increased class size.
Now that you know this information, it's time to ask legislators to make a change.  If you can't get on the bus, you can act from your PC or cell phone.  On June 15, a ton of mom bloggers along with advocacy organizations and school supporters will take to Twitter to show the world why this issue is so vital to our children.  Join us from 1-2 pm on Monday, June 15th and use the #FairFundingPA.
As my mom always says, when you know better, you do better.  If you want to know the facts on why we need a fair education funding system, check out the Campaign for Fair Education Funding website.  Remember I'm boarding the bus for fight for my children's right to a fair education funding on June 23rd , and I'll be on Twitter on June 15th.  I hope you'll join me!