For homeschoolers the holiday season is a time for reflection. Many of us take a break during the month of December and re-organize our curricula, evaluate our children's performance and take a much needed mental break.
When you're considering your loved ones who may be homeschooling in-color, it might seem as if we have everything. But, just like teachers, we always need something.
For family members looking for gifts for their homeschooling family members, check this list of gifts every black homeschooler will love.
A Teacher's Pay Teacher Gift Card
I use TeachersPayTeacher.com like many folks use Amazon. Many of the worksheets, games and PowerPoint presentations I use come from the website. And, they have gift cards! Any homeschooler would love this gift.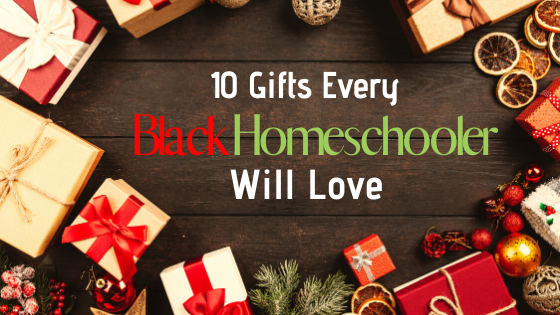 A Basket Full of African-Centered (and not so AC) Teaching Goodies
Homeschoolers love little educational trinkets that allow us to add some color to our school days, and add filler when we need extra time or our kids are getting on our nerves. Consider making your homeschooling friend or family member a bag or basket full of some of these gems.
Woke Homeschooling History Curriculum
In my quest to find a true African-centered history curriculum, I found this earlier this year. It's a 'woke' history curriculum that pays special attention to the historical injustices experienced by indigenous folks on American soil . I'm excited add this to our school day in 2020. Check it out here.
A Membership to a Local Museum, Science Center or Gym
Memberships are the lifeblood of homeschooling. Memberships to local venues allow us to stay social and explore learning outside of our homes. In Pittsburgh, a membership to the new MuseumLab is perfect for families with kids over 10-years-old AND it includes a membership to the Children's Museum (for kids under 10). Many times a subscription to one learning center (like a science center) will include membership to a host of other venues. Check out this website to find museum networks in your city. Be sure to ask.
An Audible Subscription
Reading to your kid is an essential part of helping them become awesome readers. Homeschoolers are always on the go. Unlike schooling families, gym class, art class and science class might all be in different locations. For that reason, we use Audible a lot to get our reading time in. Audible is a relatively cheap gift that the homeschooler in your crew will love.
STEM Stuff
Science subscription kits (like Kiwi Co., Steve Spangler, etc.), snap circuit kits and/or early engineering kits, are all great gifts for homeschoolers. Here are a few to click around on.
For Mom: An IOU
Homeschooling moms are under a lot of pressure. In the Black community, many of us find ourselves homeschooling out of a need to protect our children and give them the education they deserve. We are not sitting on a wealth of funds, resources or friends to help. An IOU to babysit, get a pedicure or just sit and talk, can be a lifesaver for a homeschooling mom. Here's an entire list of IOU ideas that moms love.
Subscription to a Learning Website/Curriculum
Truth be told, most folks are not writing curricula from scratch. We are using a combination of books, workbooks and websites. From IXL.com to MysteryScience.com, our homeschool without these websites to challenge and bring out of the box ideas to our day would be overwhelming. Plus, some of these are easy for kids to navigate themselves and the subscriptions can, sometimes, be used for multiple kids with just one purchase. Here are my favs.
For Homeschool Moms:The Well Planned Day Homeschool Planner
Sis, if I was a planner….gurl! I purchased this planner two years ago and never used it because I'm generally not a planner, but is has so much AWESOMENESS inside. From daily inspiration quotes to a tear-out report cards, shopping list tear-outs to take to the grocery store, it's just the bomb. Even though I don't use the planner part, I use all the tear outs and read the quotes. I also like how it has holiday planners in it for each holiday – I use those too. Check out the Well Planned Day Homeschool Planner here.
For Moms: The Brown Mama Mindset Book & Workbook
Ready to start the journey toward freeing yourself Mama? The Brown Mama Mindset Book & Workbook are your roadmap to get there. This book and activity-based workbook will take you on the journey to go from broken to whole. If you're thinking about homeschooling, or if you're just thinking this year is THE YEAR to make THE CHANGE, get the book, you won't regret it! Click here.
I hope this list of gifts for Black homeschoolers was useful. If you're a homeschooler, tell us what you would want as a holiday gift in the comments.