Learning can happen anytime and anywhere. Although this school year has been tough for many due to COVID-19, there are still opportunities for our children to engage with one another, knowledgeable adults and the outside world.
Brown Mamas is trying it's best to galvanize some of the resources our community has available with it's Learning Cooperative.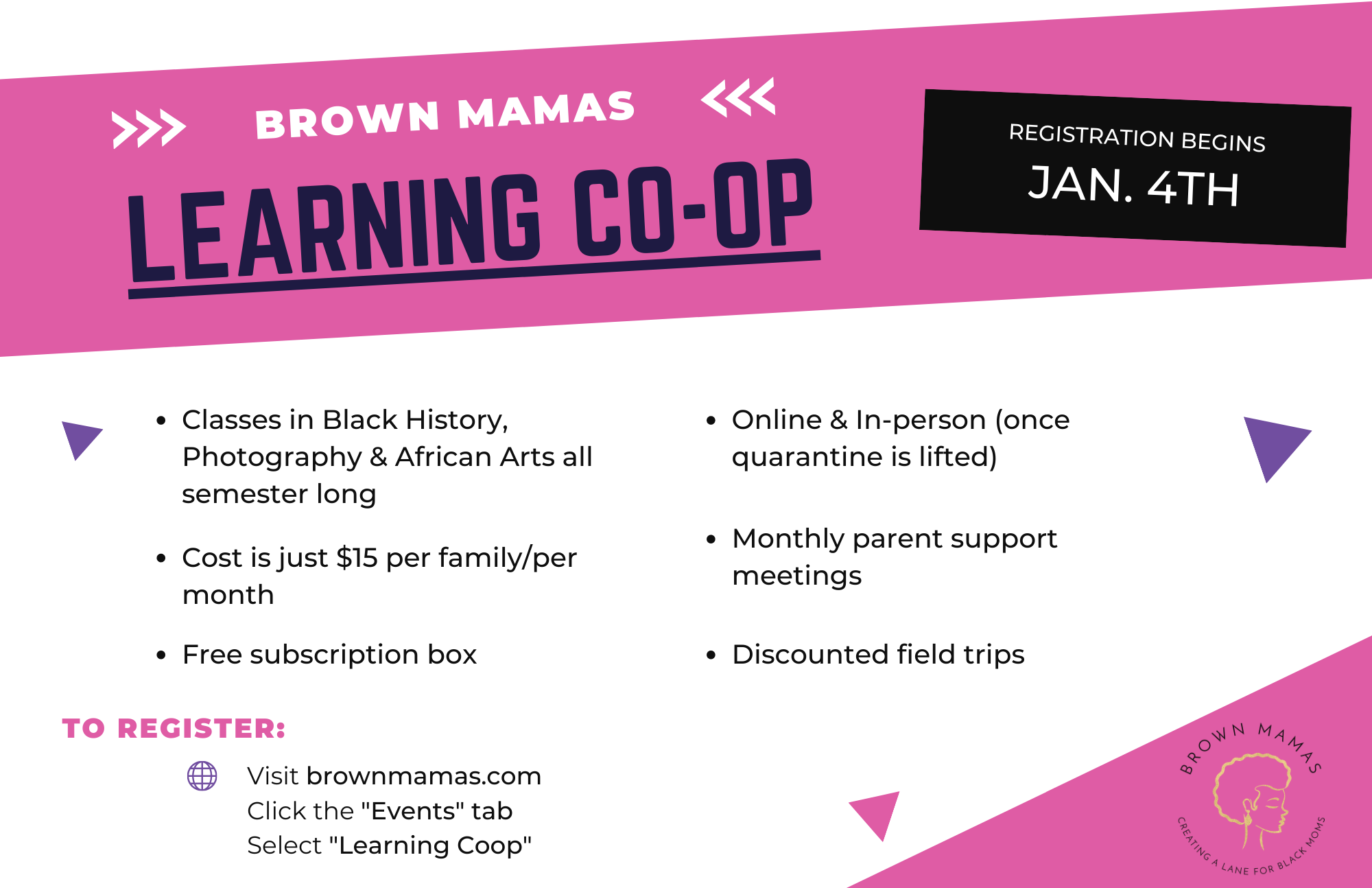 The Learning Cooperative will consist of knowledgeable Black parents, caregivers, teachers and educators providing learning opportunities to our children.
Here's what parents need to know about the Brown Mamas Learning Cooperative.
From Thursday, February 11, 2021 – Thursday, April 15, 2021, we will offer learning sessions in Black History, Photography & African Art.
Registration begins Monday, January 4th and ends Monday, February 15th.
The cost to families is $15 per month/per family.
Classes will happen during school hours. The majority of classes will occur online. However, when quarantine restrictions are lifted, we will try our best to meet in-person; specifically for photography and art classes.
Class sizes are limited, so please do not sign-up if you are unsure whether or not you can participate.
In addition to classes, members of the Learning Cooperative will have access to subsidized field trips, a monthly creative subscription box by Rock-by-Rock and parent support meetings.
You can find the entire class calendar for the semester on the Learning Cooperative Calendar. The calendar also includes other learning opportunities happening in and around the city of Pittsburgh.
You can register for classes using the buttons below. The registration link contains information about class times, instructors and class content.
Registration ends on Monday, February 15th. After you've registered, you will receive forms that must be filled out and returned prior to your child attending classes.
Email us at pittsburghchapterbrownmamas@gmail.com to if you have other questions.