Raising Black boys is tough.  Raising black boys is a monumental task. Raising Black boys for Black moms is often like grasping for straws in the dark.
As a Black homeschooling mom, I'm always looking for ways to expand how my boys learn and what they learn as I fully acknowledge the odds they will face as they enter the world.  One of the best quotes I've ever heard about raising well-rounded kids is by Joe Gatto, an acclaimed professor out of Columbia University  who said:
If you want your kids to be smart, front load them with tons of experiences.
I take that to heart.  I don't believe that teaching your kids the ABCs and 123s is what makes them smart, I think you have to give your children access to the world around them.  I believe in leaving no rock unturned when it comes to educating my children.  Your kids should know everything from what type of flooring you have in your home to how their favorite sneakers make it from China to the shelf at Foot Locker.   With that said, here are some experiences I have exposed my children to and some that I'm working towards.  I hope you will give your kids the same opportunities.
Every Black boy should…..Drive a Car
Of course, do this in a huge, empty parking lot after the kid is at least 10 (or can see over the dashboard).  Even if your kid doesn't leave an expert driver, they should leave knowing how a car works.  The first time my husband took our 13-year-old to an empty lot he was scared and didn't want to drive, but he knows the ins and outs of the car and now has knowledge to build on.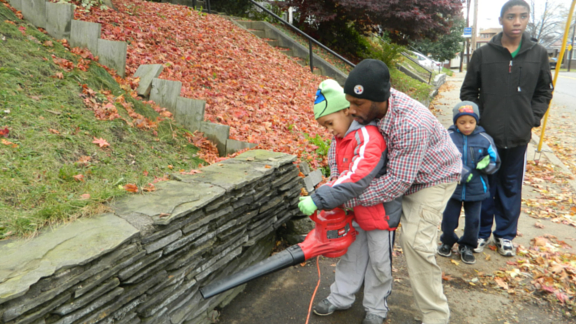 Every Black Boy Should…Make a Fire
Black Friday is coming, and I'll be first in line to buy a fire pit.  I want my boys to be boy scouts without joining. They deserve at least some survival skills, and I'm hoping it will connect them to nature a little more.  These days kids are super plugged in, I want them to be able to relate to a time when this was not so.
Every Black Boy Should…Make a Map
Help your kids get familiar with where they live and the places and people who live with them by assisting them in creating a map of their neighborhood. This helps our boys build familiarity with their neighborhood, and helps them realize that the world belongs to them too.
Every Black Boy Should… Use a Power Tool
The first time my kids used a power tool, I'll admit I was scared.  But, it gives them confidence to know they can hang a picture, clean-up the leaves in the yard and tighten the knobs on the kitchen cabinets.  It makes me feel secure knowing that they will acquire skills to keep my home standing long after I'm gone.
Every Black Boy Should… Ride the Bus Alone
With all the perceived danger the media tells us about everyday, it's hard to believe that your kid could actually catch the bus by himself and make it back home safely.  Last summer we let our son do it, and guess what? He made it home safe.  Learning to ride the bus at 12-years-old made him feel confident and helped him learn that he will have to navigate the world on his own someday.  It made me feel good to know that he was capable.
Every Black Boy Should … Dissect An Animal
Light bulbs go off when kids get to really examine the insides of a thing that was once living.  They begin to understand what happens to their food, how they breath and why they can feel and hear their beating hearts.  It all of a sudden becomes real to them that they have a body and that their body is working everyday.
Every Black Boy Should … Grow a Plant
My boys really like growing things.  It gives them satisfaction to know that the Earth is alive and that it is capable of doing great things with and without our help.  Having your kids grow plants indoors and outdoors teaches patience and consistency. (i.e. they've gotta wait for the plant to grow and they've gotta do their part everyday to water it and make sure it gets just the right amount of love and light)  I'm always looking for new things to grow in my house. Think I'm crazy.  Well I've got an expert to back me up.  This is one of my favorite TED Talks.  Gever Tulley, founder of the Tinkering School, talks about 5 dangerous things you should allow your children to do.