If you want to teach African History to your kids, you're in the right place. Teaching African history and culture should be an essential part of educating all children in the African Diaspora. It's often said that education with no direction is useless. As I continue the journey of homeschooling my three sons, I've started searching for resources to teach them African history as part of our daily curriculum. That will include lessons in African history, spirituality and languages. Even if you're not homeschooling, here are some websites you can utilize after school and on weekends to help your children understand the daily lives of our ancestors and the current lifestyles, accomplishments and culture of our brothers and sisters throughout the Diaspora on the African continent. Enjoy!
Narratives from enslaved Africans, the speeches of Frederick Douglas, portraits of African-American life and more can be found in the Library of Congress's African-American Archives.
I love the African children's books and book reviews posted on this site. I have three boys and sometimes it's hard to find Black children's books that feature Black boys. Africa Access Review is always reviewing books that have Black boys as main characters. I'll be purchasing several books on their listing for my sons this school year.
This website is an interactive map that visual museum that traces the period of Black history when African were enslaved in America. I recommend this for young people ages 8 and up.
First up, this site teaches everything a child needs to know about the historic kingdoms of Africa. It also has a list of African proverbs and some African folktales.
This post on history.com details the substantial accomplishments of the some of the African Empires prior to European pillage.
This site has resources geared toward developing ethnic confidence in young African-American children. You can purchase posters, digital DVD downloads and other educational resources.
This site teaches your child everything they need to know about each country in Africa. From agriculture to climate and culture, Our-Africa.org gives a break down of each country's unique way of life.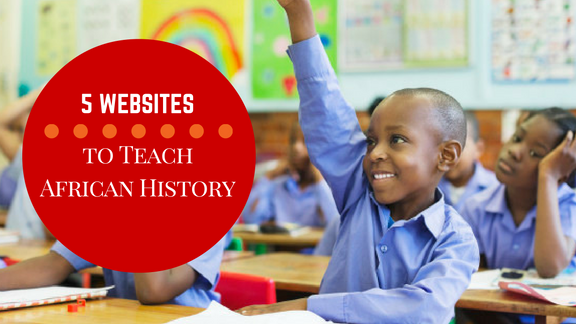 Duolingo.com has long been known for it's ability to help children learn all types of languages. Now, the site is planning a curriculum to teach Swahili. The website says the curriculum should be ready before Christmas 2016.
I love PushBlack.org. This site sends you daily black history facts and articles via text message. SUBSCRIBE! This site is a great way to spark lesson plans or daily conversations. I love this site for teaching kids Black history in tidbits. You can use Push Black for a quick daily African history fact. Love it! [icon name="li_heart" size="18px" color="#8224e3″ link=""]
The Black Past website site focuses on helping us to recognize the current accomplishments of African people in the world. It post profiles of African-Americans making a mark in their professions and also post little know facts about African people throughout history. This is a great sight for your teenager or tween to visit often and stay up to date on the achievements of Black people today.
If you want to make sure your child is well-versed in the folklore of the Motherland, visit WorldofTales.com for a great list of African folktales. It boast tales from many countries in Africa and some great stories.
Also, check out these worksheets on teaching African geography on TeachersPayTeachers.com.
PBS Learning also has some great videos on the ancient African empires. Here is an illustrative guide showing you where to start in your African history studies.
Hope this helps.
Read more about School & Kids:
30 Websites Every Black Homeschooler Should Know
How to Create Your Entire Lesson Plan in ONE HOUR
Guide to Homeschooling Your First Year
Here is a video about why I started homeschooling
Remember Pin This!