A lot of time management for moms is about actually doing the things that you hate doing.
What are you thinking about right now that you absolutely are NOT looking forward to doing?  Now, ask yourself why you didn't do it sooner.  That's why your morning matters.  What occurs each day before 10 am has the ability to determine the outcome of your entire day.  In fact, it DOES determine how your day will unfold, hour-by-hour.  A few months ago I had an epiphany about morning time, which I documented in the post, Why I Make My Bed Every  Morning.
I started making my bed each morning as a way to anchor my early hours; giving myself a mandatory activity that had to be done before beginning the day of homeschooling and running my business.  What I soon realized is that anchoring activities like this actually helped me to get more done.  Leaving my room clean and refreshed gave me one less thing to worry about as my day progressed.  Now, I've developed quite a few anchoring activities both in the morning and throughout the day that ensure I have a good morning.  Here are some easy ways you can master your mornings in a meaningful way.
Do Something You Hate
Is there something on your mind that you know you're going to dread doing for the rest of the day.  Remove it from your short list of things to do, by doing it before 10 am.  My dad always says that whatever you hate doing the most, you should do first.  That eradicates the voice in your head that will nag you all day and frees up mind space to accomplish task that you'll either enjoy or that are mandatory for your day.  Not accomplishing this task is why many of us end up having a bad day.  We walk around the entire day dreading doing this one thing.  Meanwhile, had we completed the task earlier we would have freed up mind space to conquer other task.  Like Nike says, JUST DO IT!
Check In With Someone
Find another mama who is either struggling with time management, or has mastered it, and make her your time management accountability partner.  Anchor your morning routine with a happy, smiley 'good morning.' Just recently, I welcomed this bright spot into my day and it works wonders.  I have a friend/accountability partner that I check in with daily.  Sometimes all we say is good morning.  Other times we celebrate each others accomplishments, or just say "I'm praying for you," or "Hang in there."  This person need not be another business professional, it could be a mom, husband, parent or sibling. Checking in with a morning partner just gives you another anchoring activity to get your daily juices flowing.
Get Inspired
I've actually been doing this for a long time, and didn't even realize it was an anchoring activity.  Since I was a teenager, each morning I listen to something inspirational.  An audiobook, inspirational speech on YouTube, the latest India Arie album, anything that can send me lights and love through speakers qualifies as a way for me to get inspired each morning.  I believe in the power of the Creator and the ancestors.  They are always speaking.  I tap into my spiritual and Earth connection, by listening to something each morning.  Sometimes I just listen to cars speeding up and down the road through the rain, or the birds chirping and the trees swaying.  Just listen.  You never know who's trying to talk to you.
Wanna take this a step further?  Do you REALLY need to get organized?  Check out 
Brown Mama's Guide to Organizing Your Time
.  This eBook will transform your daily to-do list into an outcome oriented daily task list that will have you poised to master your day.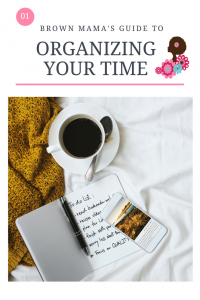 Hope this helps.
Check me out on #Periscope @THEBrownMama
Watch on #Periscope: ?Why your morning matters? #lifescope https://t.co/VLWkhhcfsV

— Muffy Mendoza (@THEBrownMama) June 3, 2016