Instead of spending hours on Google searching for keywords like "activities for kids in the Pittsburgh region" or "Pittsburgh summer camps," just go to the Summer16 website.  Bottom-line, every parent hopes to get one thing from their kid's summer vacation: memories.  During summer vacation in Pittsburgh, us parents just want our kids to have tons of fun in a safe, stimulating and community cooperative environment, but it's a total bummer sifting through all of the flyers and local listings to find said activities.  So, where can you find all of the summer activities for kids in Pittsburgh in one place: pghsummer16.com.
This summer our city and county are trying its best to ensure that every kid has the sweetest and safest summer of 2016 possible.  Here are 16 awesome ways to give your kids the best summer ever right here in the Pittsburgh region directly from the Summer16 website:
412 Build Eight Week Engineering Camp

Adult Swim Classes
Alcosan Summer Science Camp
Dollar Bank Junior Great Race
The Citizen Science Lab's Camp & Classes
Carnegie Science Center's Fab Lab
Girl's Rock! Pittsburgh Summer Camp
Investing Now College Prep
KOOL Summer Program
Weekly Seedling Scientist Camps
The Maker's Clubhouse
Click here for even more activities!
  Or, if you're looking for activities for
teens and tweens
, click here.  If you're looking for
inexpensive options
, click here.  If you've got an
ACCESS card, click here
.
For the last few years, the entire City of Pittsburgh has been a playground for my kids every summer.  From participating in the Carnegie Library's Summer Reading Challenge and attending the Pittsburgh Project summer camp to getting creative at Citiparks' Roving Art Cart and splashing around at local spray parks, Pittsburgh has been our premier destination for low-cost summer fun.
Kids just want to have fun this summer! Summer16 is how we get there. We have PNC Bank to thank for making sure that all parents can access pghsummer16.com to find summer activities in Pittsburgh for their kids.
To find out more about the city's Summer16 initiative to keep kid's busy this summer.  Join our Twitter Party!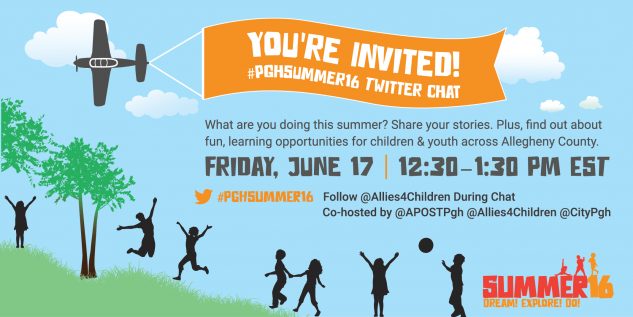 Be sure to visit pghsummer16.com to find awesome activities for your kids this summer and every summer!  See ya out and about!
I'm teaming up with the Summer 16 to help ensure all Allegheny County children have a safe, healthy and productive summer. Although I am receiving some form of compensation, all opinions remain my own. #PghSummer16