It's been a long time coming, but finally many of us brown mamas are making our way back to long (or short if we want it), healthy hair.  In order for us to do that, we've had to throw out many of the old-school rules that were snatching off our edges and clogging up our scalps.  But the mamas who came before us didn't mean it, they just didn't know any better.  They taught us hair remedies that had been passed down to them.
With that said, here are some rules I've learned to throw out the window as I've made my ascension toward liberated locs!
Blue Magic Ain't Magic
While us brown mamas do need to maintain nourished and hydrated scalps it turns out all those afternoons we spent between mamas legs getting our scalps greased likely just resulted in heavy build up. While some mamas still swear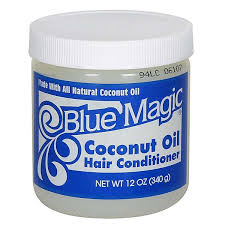 buy greasing the scalp, I've found that as long as I make sure the moisture from my hair is making it to my scalp, I'm good.  I usually just drip a light-weight oil into my hair when I twist in my Bantu knots.  That way my scalp gets hydrated without feeling like someone spilled Crisco on my head.  Furthermore, if you have any scalp condition like dandruff or psoriasis, greasing your scalp with a petroleum or lanolin-based product can actually worsen the problem.
Perms Must Be Done By Pros
Evidence has surfaced over the past few years that relaxers are just bad for Black hair. But, if you must continue to indulge in this process, it must be done by a pro.  We now know that when harsh relaxer chemicals get exposed to our scalps it can cause infection, oozing and lots of itchiness. Let's face it mamas, you can't see the back of ya' head well enough to relax it (even with an extra mirror).  So, if you chose to continue the practice of perming, go to a salon and let the professional stylist handle it.
Just 'Cause You Can Take the Heat, Doesn't Mean You Should Be in the Kitchen
While things like hot oil treatments, hair steaming and just exposure to sunlight are great for our curly manes, daily heat often causes split ends and scorching. Too much press n' curl can dry out your hair and cause lots of shedding.  Whereas our mothers seen the weekly kitchen comb seat as a rite of passage, we now understand that too much of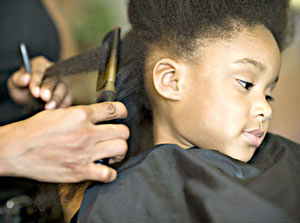 that thing, can be a bad thing.  There's nothing wrong with a blowout once in a while, but flat-ironing more than once a week stunts your hair growth and makes your hair look dull over time.
Itchy Scalp Doesn't Mean Dandruff
My oldest son has dandruff, so I understand fully the discomfort that people who have dandruff experience. But, just because you've got flakes, doesn't mean you have dandruff.  Unlike our mamas before us, we understand that dandruff is a condition. It is not caused by products or dry scalp.  It is usually hereditary and is common in certain types of hair and in people with oily skin.  Here's a great article on dandruff that dispels this myth.
You Just Need A Regular Healthy Hair Routine for Hair Growth
Back in the day it was said that only Dr. Miracle or Dark n' Lovely products knew the secret to long, healthy hair. It was as if only some scientist in a laboratory far from the hood knew the secret ingredient to make a Black girl's hair grow.  Well now it's common knowledge, especially among the natural hair community, that all you need to do is treat your hair with care to get it to grow.  Sorry my straight-maned mamas, but most of the women I know who have gone natural eventually get long hair.  It's just about keeping your hair moisturized, clean and making sure your scalp is irrigated enough to breathe.  That's it.  Just juice and berries.
What about you mamas?  What are some of the hair myths that you've demystified on your journey toward luxurious locs?