There's something about a Black woman in Bamboo earrings that just sets the block off, any block.  My dad always says it's the way we walk.  My husband says it's our curves. Drake said it's our natural hair and our big booties in them sun dresses…lol!  I say that us brown mamas just bring rhythm to clothes.  When we slide on anything; shoes, earrings, dresses or coats, they just move better.  We move better.
Anyway, from my vast expertise being a Black woman and my years of experience befriending, loving and watching other Black women, here is my list of styles Black women rock the BEST!
1. Bamboo Earrings
I think it has to do with our tendency to possess almond eyes and thick lips, but all I know is that my outfit is not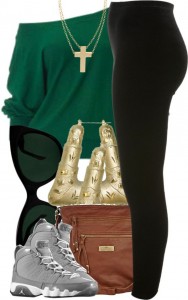 complete without big earrings.  Just think about it, every video that rappers make has the million dollar shot of a woman turning around with long hair and bamboo earrings.  That woman is usually a brown woman.
2. Sneakers
I once read an author compare a Black woman in sneakers to a model in a couture dress.  My best friend is one of those women.  She coordinates a pair of sneakers with an outfit like she works for Micheal Kors.  Whether the sneakers are in bubble gum pink, are a pair of Keds or  have a heel on them, women's sneakers are a Black woman's fashion playground.
3. Fitted Jeans
It's gotta be the apple bottoms.  Let's face it, it doesn't matter how many booty injections Kim K. gets or how many pom-pom exercises J.Lo does, Black women will always be the face of nice booties and this bodes well for us when sporting our jeans.  Now mamas, don't strangle the booty in jeans. But a nice pair of tastefully fitted jeans does a brown mama's body good.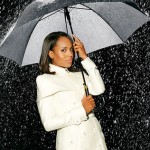 4.  Pea Coats
The pea coat had no clout until Kerry Washington wore one.  Since the intro of Scandal the pea coat has gotten more attention than Mimi & Nikko's sex tape.  I think it just took a special brown mama to wear it right. When us brown mams decide to get our Olivia Pope on, it's nothing but magic. The slender fit of pea coats are great to accentuate our natural curves (and sucking in areas that need a little extra work. )
To upgrade your wardrobe with some of these go-to brown mama styles follow my GrownWoman Wardrobe Pinterest page.
So mamas, I know you've got your own go-to brown girl-exclusive styles.  What are they?