[vc_row][vc_column width="1/1″][vc_column_text]This is
the book
I've been waiting to share with my little boys their whole lives, and mine.  Why, you ask?  This book truly transports brown children into a world that looks like them and examines life from their perspective.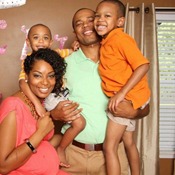 A World of Our Own: The Beginning
by Omar & Kimberly Finley takes children on a uniquely Black voyage through the seven days of creation. It keeps the traditonal creation story in tact while adding brown faces and the collosal mind of God to the story. In addition, the book was written and illustrated by a #goodfamily.  The Finley duo wrote and created the book with their own two children in mind. So, if you wanna buy within our community, this is the way to go. If you have brown babies at home, this book is a must have.  
To own A World of Our Own: The Beginning visit the Finley's website at http://www.ourstorybookspublishing.com/.
In addition to loving the book, I was equally pleased that my 6-year-old could read it on his own.  Check him out! [/vc_column_text][/vc_column][/vc_row]