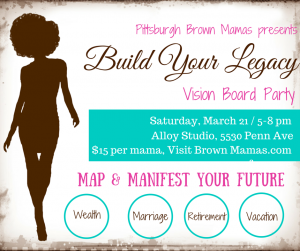 What does a successful Black family look like?  Are you planning for your legacy right now?  Do you even know what life will look like once your children are grown up?  Well if you answered no to any of those questions, you need to attend the PBM Build Your Legacy Vision Board Party on Saturday, March 21, 5 pm @ the Alloy Dance Studio!
Cindy Mendoza and Tiffany Huff are teaming up, once again, to give the mamas of Pittsburgh a thoughtful night of fun!  Hear from Brown Mama Cindy on how to plan, not for your future, but for the legacy you will leave for your children.  Brown Mama Tiff will lead the mamas in visualizing, creating and presenting their vision boards.  We will also enjoy cocktails, munch on some mama food and congratulate all of our #GoodMamas!
So, what are you waiting for?  Tickets are just $12 until March 15th & $15 after that.  Plus, bring a friend and get two tickets for $25.  We can't wait to help you build your legacy!!!