Most of the time when my husband comes home from work this is what I am wearing: a pair of sweats or pajama pants and one of his oversized t-shirts.  He usually greets me with a kiss.  While that's nice, it's not exactly the reaction that I want.  "I'm glad to see you," "You look beautiful," or even a slap on the butt would be more my speed.
But, to be honest, I don't usually feel that way when he gets home.  After running after the kids, getting dinner ready and throwing on his NY Marathon t-shirt that looks like I was caught in a drive-by shooting, I usually feel like Steelers' wide receiver Mike Wallace after one of his toughest workouts. So, when my dad came to me with the idea to spruce up my home-time wardrobe [likely a suggestion from my husband] I was game.
All it took was a trip to Smithfield Street and a walk into Burlington Coat Factory, and one evening later I went from looking like one of my husband's basketball buddies to this: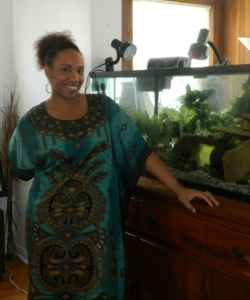 It may not seem like much, but my hubby loved it.  What I love about these new-age house coats is that while I'm still sweaty and tired, it doesn't show.  And even if I haven't had it on all day, it acts as a quick cover up.  So when I hear my hubby's car door slam I just slap it on and he doesn't even know that my wholly t-shirt is still underneath.  The first day I wore it I got a butt slap, a kiss and a little bit of a precursor to a make-out session. All Right—as Wendy Williams would say!
Also, these little slip-ons make great gifts for new mommies and experienced mommies.  Did I mention that it was only $9.99?  So, guess what I got for my birthday this year.  My hubby got me an Ashro upgrade and now I have over 10 of these babies. I'm telling you mamas, this is one to try.
Read More About Relationships on Brown Mamas:
Our Relaxing Vacation to Fort Lauderdale, Florida
4 Argument Icebreakers for Fight Couples