I hate when my old broom gets those little fuzzy, grey balls on the end.  Once this happens, the broom just becomes ineffective.  This results in unreachable corners and all the dust from the floors just sticks to the bristles and transports dust from one room to the next. My entire house is wood flooring.  That means I sweep floors everyday, all day.  Needless to say, it's a very common occurrence that dust build-up gets the most of my little sweeper. Rather than buying a new broom every other month, I've figured out a really easy fix to reduce my $12 bi-monthly sweeping bill to a quarterly broom bill.  And all you need is some scissors.  As they say, a picture is worth a thousand words.
Step 1 (the only Step)
Just cut the bristles with a pair of strong scissors.  Yup.  It's that easy. Viola!  You've got a brand new broom; at least for a little while.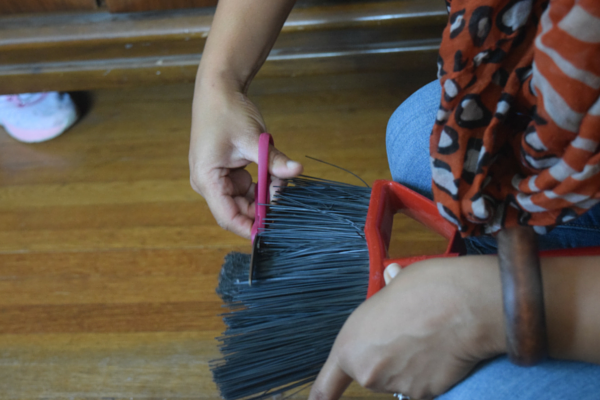 This is how I'm getting my #momLife.  What easy tricks do you do at home to make your home life a little easier?
Like Cleaning Hacks? I've Got Some More:
Get the Pee Smell Out of Your Boy's Bathroom
5 Things You can Clean with Scrubbing Bubbles