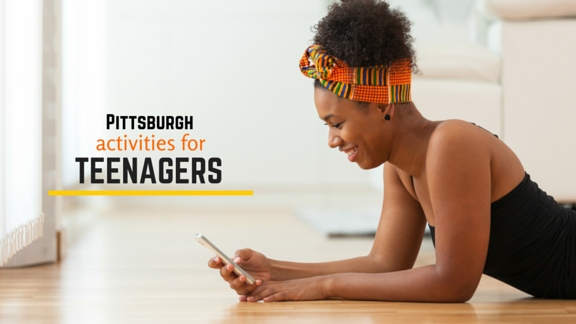 The older your kids get the harder it is to find things to do in Pittsburgh with them.  They're less likely to want to the visit the museum or science center.  In fact, if your kid is anything like my 14-year-old son, it's hard enough just keeping their attention.  But, if you're a mom like me who still enjoys spending time with her big kid this list is for you .  It turns out there a ton of things to do in Pittsburgh no matter what their age is.  From biking at the Wheel Mill to experimenting at the Citizens Science Lab or learning to crochet at the Homewood Library, the list of things to do in Pittsburgh is vast.  Here's a list of Pittsburgh activities for teens and older children. [vc_tabs interval="0″ title="Activities for Big Kids & Teens in Pittsburgh"][vc_tab title="Biking" tab_id="1440905618665-4″][vc_column_text]
Free Ride Pittsburgh
Free Ride is a bicycle recycling and education facility focused on teaching the do-it-yourself approach to bicycle repair and maintenance. There is that old saying "if you give a person a fish they will eat for one day but if you teach them how to fish they will eat for a lifetime." That is our basic philosophy at Free Ride.
The Wheel Mill
Red Lantern Bike Shop
The Red Lantern Bike Shop is operated by Brian Sink and it receives donated broken and unused bikes.  The bikes are then refurbished and redistributed back into the community.  The Bike shop is open Saturday mornings from 11-12:30.
My Bike Program
Variety Children's Charity host this program. The "My Bike" Program  provides adaptive bikes individually customized to eligible children with disabilities.
Got your bike? Ready to ride? But, you need a map; don't you?  Bike Pittsburgh has got your covered.  Go to their site and download their map of Pittsburgh Bike trails.  Click here.
[/vc_column_text][/vc_tab][vc_tab title="Rock Climbing" tab_id="1440905619269-2″][vc_column_text]
The Climbing Wall
Climb North
Ascend Pittsburgh
The Pinnacle at REI
Pittsburgh Mills Sky Trails
[/vc_column_text][/vc_tab][vc_tab title="Arcades" tab_id="1440905656389-2-0″][vc_column_text]
Games N' At
Fun Fest Entertainment Center
Kickball Pinball Cafe
Victory Pointe
Ace's Breakaway & Play
Laser Storm Pittsburgh
The Play Parlor
[/vc_column_text][/vc_tab][vc_tab title="Making/Tinkering" tab_id="1440905672491-3-5″][vc_column_text]
Assemble
Digital Corps
Manchester Craftsmen's Guild
Citizen's Science Lab
Engineering for Kids
Makeshop Children's Museum
4-H STEM Programs
[/vc_column_text][/vc_tab][vc_tab title="Cooking Classes" tab_id="1440905682553-4-2″][vc_column_text]
Gaynor School of Cooking
 — Summer Camps, Mommy & Me Cooking Class, Birthday Parties
Crate Cooks
Chop, Wok & Talk 
Williams-Sonoma Junior Chef Classes
[/vc_column_text][/vc_tab][vc_tab title="Sewing/Creative Making" tab_id="1456371685753-9-3″][vc_column_text]
Jo-Ann Fabrics
— Sewing, Crochet, Cake Decorating and more
Micheals
Crochet Corner
— Weekly @ Homewood Library
Cut & Sew
— Classes & Summer Camp
Sewing for Jesus
— Every Tuesday @ Bidwell Church (FREE) [/vc_column_text][/vc_tab][/vc_tabs][/vc_column][/vc_row]