Finding chapter books for Black boys can be a quest. They're not teenagers yet, so you can't have them reading novels, but they're not babies, so picture books won't due either. Add on our preference for chapter books that are representative of our culture and it's just plain difficult. It's hard enough finding books for Black boys at all, let alone finding chapter books for black boys that have Black characters or are written by Black authors. With our teenage son we succeeded. Check out the list of books we had our teenager reading at the end of this article, but finding chapter books for middle-aged boys that were representative of us, was a tough one. We scoured the internet, searched on Amazon and were able to find some cool reads. Check out our list!
This chapter book series was a godsend. I found this looking for chapter books for my then 8-year-old and he took to them immediately. The main character, Ziggy, is a Jamaican native who likes to go on adventures with his friends. Both my boys (now 9 & 10-years-old) love this series. It is a rare find. To get this series this..i you'll have to settle for the remake. It's actually been renamed as Clubhouse Mysteries.
This is a great book for infusing some thought-provoking knowledge into your middle-aged sons mind every once in a while. While it's not a chapter book, it includes interesting facts like why is scotch tape called scotch tape and why do people in Boston buy brown eggs. We use this book once or twice-a-month to infuse some funny facts into our day. Check out Dr. Joe & What You Didn't Know Here.
Everyone knows by now that Children of Blood & Bone is the most intriguing sci-fi, chapter book for us by us on the market. What they don't realize is that kids love this book too. We haven't read it yet, but our neighbor (who is also a homeschooling family) is currently going through it with their boys and give it phenomenal reviews. We are adding it to our reading list for the next school year.
I first came across this e-book while homeschooling my oldest son (who is now 17-years-old). He loves sci-fi and this book is adventuristic (adventure + futuristic). It's a coming-of-age story about a young man in a distant galaxy. This is a chapter book with a Black author who has a slew of good reads (to-date there are four books in this series). Check out The Seedbearing Prince here.
My middle-son read this book in 2 weeks last year. He LOVED it! This is a story that will inspire any boy who has a dream. William is an intelligent, persevering African boys from Malawi whose family doesn't know how much they need him. What I love about this story is that it brings STEM to our kids from a storybook perspective. It speaks not only to the value of knowing how things from an individual perspective, but to how Black children who are makers can impact and assist their communities. In the Spring we plan to read the book again and do a project based on it and the video. Check out The Boy Who Harnessed the Wind here.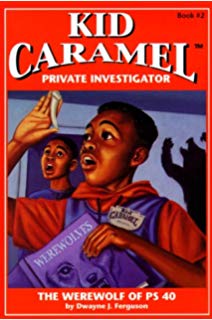 This chapter book for Black boys is an oldie, but a goodie. It has seriously been around for a very long time. I brought these books for my oldest son back in 2010. To date there are four books in the series and they just don't go out of style. Kid Caramel is a kid detective who runs through NYC solving crimes. This is truly a classic that every Black household should own. Check out Kid Caramel here.
This is another book my son read in about two weeks. Kenny Wright knows just how to get rid of bullies. He uses his skills in chess to overcome challenges at school. Both my oldest son and my middle son read this book with lightening speed. Check it out here.
Writing this post makes me realize that we really have a tradition of reading in our family that makes me feel so good. Forty Acres & A Mule is the third book on this list that two of my boys have read. This is another coming-of-age story, but this time it's telling the story of a young boy fresh off the plantation. Pascal doesn't realize that his life as a sharecropper with his family is not as blissful as it seems until so many promises are broken. Check it out here.