Dinosaurs are at the Pittsburgh Zoo! There are so many things to do in Pittsburgh this summer. If your kids are like mine, at least one of them has gone through the 'dinosaur phase.' I have three boys, so I'm very familiar with this prehistoric phase where my boys wanted me to buy every dinosaur they saw, even when they were on key chains, and my entire house became an adventurous, wildlife reserve where they were searching for rare skeletal remains or making very strange, loud roaring noises during their re-enactments of dinosaur fighting scenes. If these are the types of encounters your kiddos are into, check out Pittsburgh's latest dinosaur exhibit at the Pittsburgh Zoo & PPG Aquarium: Dinosaurs at the Zoo.
It was great to take a flashback back to those times when we visited The Pittsburgh Zoo & PPG Aquarium's new Dinosaurs at the Zoo exhibit presented by UPMC Health Plan.
The Jurrassic Park themed walk-thru exhibit brings to life all the dinos of the legendary film in an interactive, kid-friendly outdoor experience. Water-spraying dinos, a beautiful waterfall, a behind-the-scenes peek at the robotic nature of the towering creations and Jurrasic Park actors are just a few of the activities on-site.
The boys had a ball exploring each dinosaur exhibit and surprised me when they played in the sand pit. At 8 and 9-years-old, I thought they might have outgrown their dinosaur days, but naw…lol!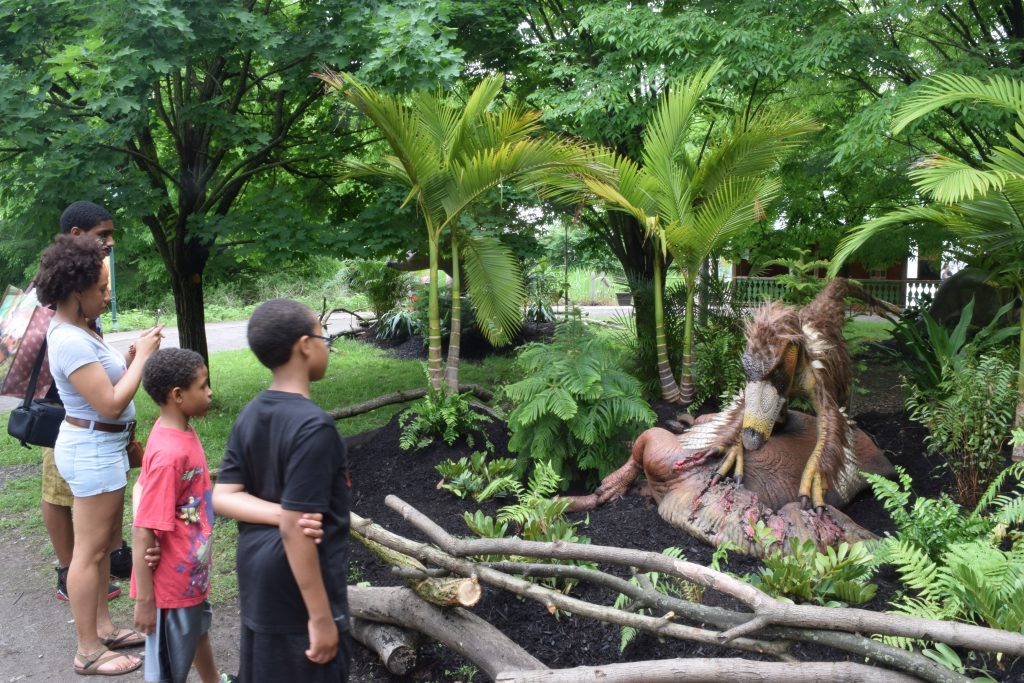 Visit the Pittsburgh Zoo & PPG Aquarium website to learn more, and to get a mini-glimpse of the exhibit. Dinosaurs at the Zoo will be at the zoo everyday until September 3rd from 9:30 am to 5:30 pm. The cost to enter the exhibit is $4.50 plus the cost of admission. Kids under 24 months (2-years-old) are free, and you can upgrade your current membership to include the Dinosaurs at the Zoo exhibit for just $30.
Here on Brown Mamas, we are running a giveaway over the next 5 days for 2 FREE tickets to the zoo. Simply LIKE and Comment on the Facebook post below to be entered into the drawing.
The Dinosaurs at the Zoo exhibit adds some interactive, prehistoric fun to the already captivating nature of the zoo. Be sure to visit the exhibit before the dinosaurs stampede out-of-town after September 3rd. Click here to visit the website and get your tickets today.
*Mamas with sensory-sensitive kiddos please note that the exhibit does utilize animatronics and has tons of interactivity. As always, be mindful of your kiddos sensory needs.
The is a sponsored post in partnership with Pittsburgh Zoo & PPG Aquarium and The Motherhood.