This post is sponsored by Bolthouse Farms and The Motherhood.  However, all opinions are my own.
So, the Pittsburgh Brown Mamas' End-of-Summer Cookout was a blast!!!  We met, we talked, the kids ran through the sprinklers at Mellon Park and look who came to visit us.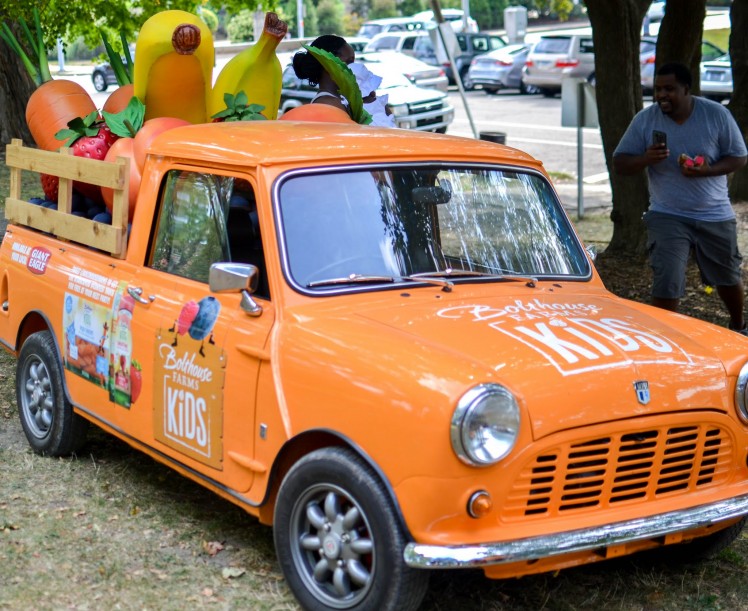 Thanks to our awesome photographer,
Leah Jones
for capturing the moment when the
Bolthouse Farms Kids™
#SnackMob truck pulled in.  The kids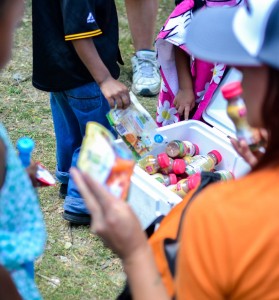 could hardly contain themselves, and as you can see one mama and dad had to snap a shot too.  Guess what? You could be next to snap your photo in front of the
Bolthouse Farms Kids
™ truck.  The kid-friendly snack makers are holding a contest (and giving away a coupon-look below) so you can have the #SnackMob truck at your next event too.
The Bolthouse Farms Kids™ Snack Mob trucks are coming to Pittsburgh this fall and helping kids go back to school in a healthy way! (hence the crashing)  Just like at our Pittsburgh Brown Mamas event, the Bolthouse Farms Kids #SnackMob truck will pull up to your party, give away some healthy snacks and let you snap pictures in and outside of their very cool truck.
WIN a visit from the Snack Mob by tweeting @BolthouseFarms for a chance to get the #SnackMob truck to deliver Bolthouse Farms Kids™ products for free at your next party!  Be sure to use the hashtags #Snackmob and #Contest in your tweet, and include the date and type of event (e.g., soccer tournament, block party, etc.) in your entry. Contest ends Sept. 19, 2015 at 11:59pm. You must be at least 18 years old to enter. Maximum of 100 people per event.
I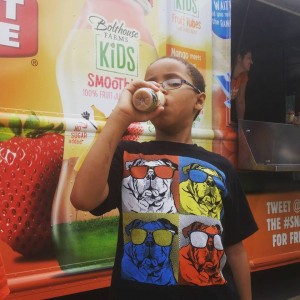 f you're not that familiar with Bolthouse Farms Kids™ products, no need to worry. We've already tried them out for you.  Bolthouse Farms Kids™ is a new line of healthy snacks made just for kids.  Their kid-sized smoothies, fruit tubes and veggie snackers contain no added preservatives, high-fructose corn syrup, or artificial flavors.  All of the snacks are great for hectic, on-the-go breakfast additions and in your kid's lunch box. My boys love, love, love the Strawberry meets Banana smoothies!  You can find these tasty little snacks in the produce section at your local Giant Eagle.  While you're at the grocery store you might as well try the new healthy treats for FREE.  Bolthouse Farms Kids™ #SnackMob truck will be crashing Giant Eagle stores all summer long.  Click the button below to find out when the SnackMob truck will be in your neighborhood.
[button url="http://www.bolthousefarmssnackmob.com/" target="_blank" color="green" size="medium" border="true" icon=""]Find Bolthouse[/button]
Upcoming Bolthouse Farms Kids™#SnackMob truck sightings in the 'Burg include, a pop-up at the Strip District World Festival at 6 p.m. on September 11th and at the Junior Great Race at Point State Park at 8 a.m. on September 19th.  If you're already geared up to try these delicious tasty snacks.  Print our your coupon by clicking the button below.
[button url="http://bolthouse.com/kidscoupon" target="_blank" color="green" size="medium" border="true" icon=""]Get My Coupon[/button]
Remember to tweet @BolthouseFarms to win your own #SnackMob truck crash.  Just use the hashtags #Contest and #SnackMob in your tweet and be sure to tell Bolthouse Farms Kids™ what kind of event you are having.  I hope you'll give these awesome snacks a try, we did!