Whether you're a new mom or a veteran mama, single or married, stay at home or corporate mama, one child or multiple – there's bound to be some uplifting, encouraging or healing spaces available to you. And in today's world they are more attainable, and can be accessed from the comfort of your couch, car or office. Read along for 10 podcasts for moms (black moms in particular) in need of support and healing.
Brown Mama Blueprint Podcast
Muffy's goal with this podcast is to help mamas do the work necessary in becoming the whole woman they desire to be. Through storytelling and various subject matter advice, her intention is to amplify black women's voices. A few episode topics include sexual dysfunction, black girl gardening and healing with reiki.
2. Black Girls Heal
Licensed Professional Counselor Shena Tubbs is dedicated to aiding women in breaking those cycles of unhealthy relationships through her podcast, Black Girls Heal, coaching, therapeutic support and practical tools. Her podcast and online community are intentional about helping women grow into their self worth.
3. Therapy for Black Girls
Dr. Joy Harden Bradford, a licensed psychologist based in Atlanta, GA, tackles all things mental health on her weekly podcast. By her bringing other licensed professionals on, we get to sit in on healthy conversations on a variety of topics. And she also focuses on personal development and what we can do to become the best versions of ourselves on the Therapy for Black Girls Podcast.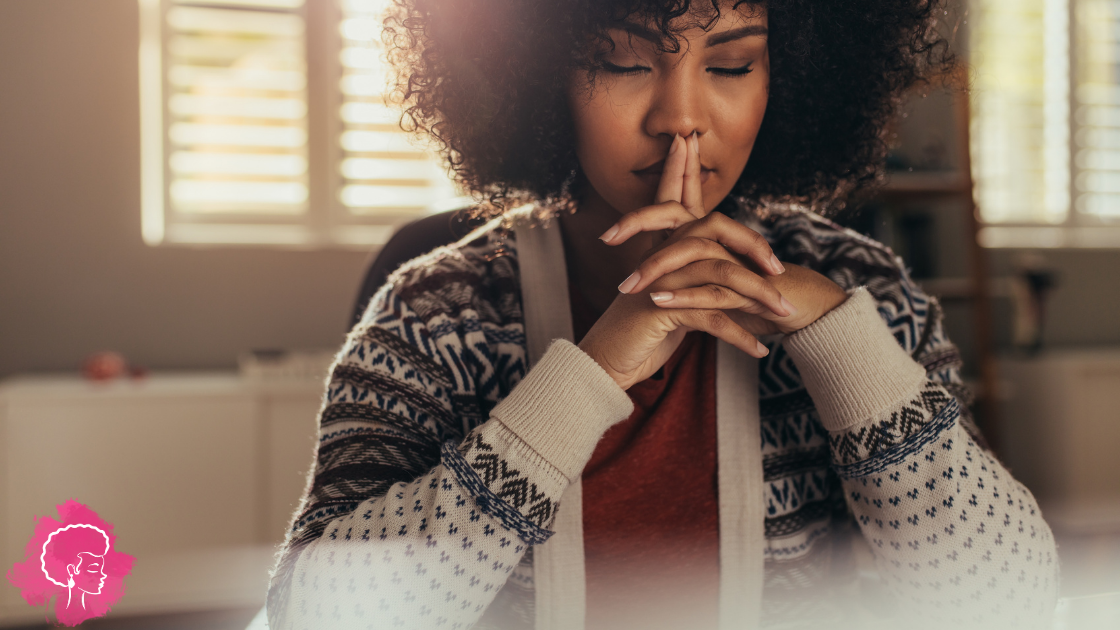 Meditative podcasts for moms
4. Dem Black Mamas Podcasts
Answering all the questions your mama wouldn't (or still won't). Three black mama creatives touch on various topics ranging from sex to raising free Black children. They also include "Meditations by Mamas" which is led by Black mamas to help maintain or align ourselves with healing, creativity and liberation to manifest joy and abundance. If this doesn't fit the podcasts for moms category, I don't know what does.
5. Black Girl Mystic
The Black Girl Mystic podcast highlights Black Women, femme healers, spiritual healers and modern day mystics who are changing the world by living their soul's calling. The twice weekly episodes are intended for you to learn to uncover your spiritual gifts and begin to live your soul's purpose.
Space specific healing podcasts
Looking to add to your podcast library beyond healing? While these podcasts focus on overall mental wellness, there are other mama focused podcasts out there. Last year Brown Mamas provided a list that every black mom should listen to.
6. Fare of the Free Child
If you identify as BIPOC (Black, Indigenous, Person of Color) and are practicing forms of self-directed decolonized living and learning, then here's your tribe. Within the podcasts for moms realm, these weekly episodes examine particular ways coercive and damaging habits have been accepted as normal within adult-child relationships. Fare of the Free Child challenges and informs to push past coercion and fear and move toward a modeled community of living as free people.
7. Minding My Black Business
Intended for Black Entrepreneurs who are looking to engage, inform and support one another, while managing their business, Minding My Black Business is a space where the hurdles to self-employment can be faced and discussed by fellow entrepreneurs in the struggle.
8. Experiencing Motherhood: Single & Black
Experiencing Motherhood: Single & Black is a conversational podcast for single moms. Kim shares her experiences throughout her single mom journey along with tips to educate, inspire, and uplift other moms. Kim also brings on other moms (and sometimes dads) to talk about various topics related to single parenting in the black community.
Therapeutic podcasts
9. Fireflies Unite with Kea
The mission of this podcast is to bring light into darkness. The weekly episodes of Fireflies Unite with Kea are geared towards raising awareness and ending the stigma when it comes to mental illness. Also, encouraging people of color to seek treatment. Many people suffer from mental illness, it does not have "a look". So this podcast shows how everyday decisions impact mental health and overall wellness.
10. Celeste the Therapist
Celeste the Therapist interviews guests from different backgrounds who seek to empower people. The goal of her podcast is to help shift thinking. Many struggle with being in a negative cycle. Feeling stuck? Tap in and see if the you can learn some tips and tools to get you unstuck.
11. Between Sessions Podcast
Two brown chicks who pride themselves on changing the face of therapy, by holding dope conversations on both sides of the couch. If you have a half hour to spare you can check out the Between Sessions Podcast discussions on rebranding your life, grief during the holidays or coping with pandemic burnout amongst many others. So what are you waiting for, dive in!
Podcasts not your thing? Good news! There are other resources out there geared towards healing and mental wellbeing. The EveryMom has curated a list that goes beyond just podcasts. You're welcome!