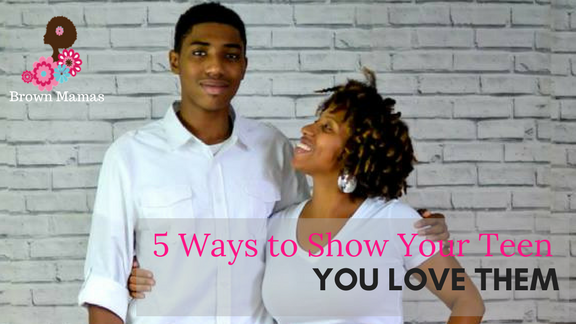 Showing teenagers love is tough. Just like every other relationship you have in life, the connection you have with your teenage child will have it's ups and downs.   So it's safe to say, the relationship you have with your teenager, well that will have it's valleys (I mean straight muddy pits) and its mountain peaks (these will be few and far between until they turn, let's say 23).  But, that doesn't mean you don't love your mentally ill middle-aged child, and now more than ever, it's important that they know that you love them.  I believe that teenagers translate discipline as love, but I still want to have fun with my teenager. Here are some fun ways to show your teenager you love them while remaining the disciplinarian you must be during these trying times…lol.
Teen Love Language 1: Play the Dozens
Teenagers will love any time with you that in some way mimics the time they have with their friends.  We used to call it ripping on each other when I was a kid.  Now my husband, son and I have a good time laughing it up about our funny family moments.  Though these are merely funny moments, when you have a teenager sometimes the best thing you can hope for is small moments of joy to get you from one day to the next.
Teen Love Language 2: Teenager/Parent Date Time
This magically still works.  It's an old concept, but still a worthwhile investment.  My son and I have made it a tradition that we see the Hunger Games movies each year.  Every  November we see the movie, but before that we anticipate what's going to happen, talk about the other films and just enjoy having something in common during this time when we seldom see eye-to-eye.
Teen Love Language 3: Stay Consistent with Family Nights
Movie night, game night, family hobbies, whatever your family does on a consistent basis should be continued even when your teenager doesn't want to participate.  Teenagers don't say it, but routine and discipline is how they know you love them.  By continuing with activities that your teen once saw as a safe haven, you let them know that there back-up is still available.
Teen Love Language 4: Let Him Read Some of Your Books
I always give my son my old books to read. (Yes, I still have books I read when I was his age) It's almost like giving him a time capsule from my childhood.  Even though I've already read the book, it's great to hear his account of the same story.  It also lets me know where his head is at when he has differing interpretations of the same story I read at his age.
Teen Love Language 5: Do One of Your Teen's Chores
One of the things I love about my 13-year-old son is that he does his chores.  Alright! He doesn't always remember to do them, but if I remind him he doesn't give me any trouble or lip.  He just does them.  For that reason, every few days I'll do one of his chores.  If your teen is doing a good job, a good way to show her that you see her diligence is by giving her a day off of chores.
All-in-all a teenager is a child only a mother can love.  How are you putting up with yours?
More About Teenagers